Afghan army base destroyed by Taliban suicide bombers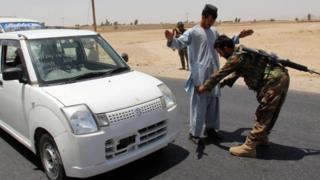 At least 43 Afghan soldiers have been killed after two suicide bombers in Humvee trucks targeted a military base in the southern province of Kandahar.
Nine others were wounded and six were missing, the defence ministry said. Ten militants were also said to have died.
The attack, which happened in the Chashmo area of Maiwand district, is the third major assault on Afghan security forces this week.
The Taliban said it was behind the early morning bloodshed.
Two days earlier, suicide bombers and gunmen belonging to the group killed at least 41 people when they stormed a police training centre in the eastern Afghan city of Gardez.
Some 150 people were injured in the violence. The local hospital, in Paktia province, said it was "overwhelmed" and issued an urgent appeal for blood donors.
The same day, at least 30 more people died in car bombings in neighbouring Ghazni province. Armoured Humvee vehicles filled with explosives were detonated near the provincial governor's office, before gunmen moved in.
Afghanistan's army and police have suffered heavy casualties this year at the hands of the Taliban, who want to re-impose their strict version of Islamic law in the country.