Wrightbus fate to be known in hours – Ian Paisley MP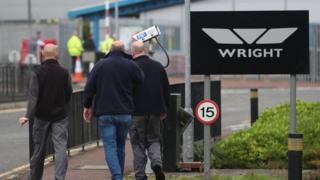 The fate of Wrightbus will be known in hours, Ian Paisley MP has said.
The Ballymena business was placed into administration last month and is up for sale.
The English industrialist Jo Bamford, son of JCB chairman Lord Bamford, is understood to have made a bid for the company.
However, the ownership of the Wrightbus factory, at Galgorm just outside Ballymena, remains a barrier to an overall resolution.
The premises are owned separately from the manufacturing business and held in a company called Whirlwind Property Two, which is not part of the Wrights group and is therefore not under the control of the administrator.
The property company is controlled by Jeff Wright, the former owner of Wrightbus.
Mr Paisley urged Mr Wright to make a deal to sell the factory.
The Democratic Unionist Party MP said Mr Bamford was not going to invest tens of millions of pounds if he did not control the asset.
Unite has said it wants to meet Mr Wright in an attempt to help strike a deal.
"The only issue outstanding now is that of the land ownership associated with the factory site," said the union's George Brash.
"Twelve hundred workers' livelihoods, the living conditions of their families and the entire local economy now hang in the balance.
"We understand that we are in a situation where if the issue of the land is not resolved in the next 24 to 48 hours, then the prospect of safeguarding their future will disappear."
Wrightbus went into administration last month after a period of financial difficulties.
Pre-administration attempts to sell the business were also complicated by the factory ownership issue.
The Wright family said it had not acted unreasonably during that sales process.
It said that one bidder had agreed to rent the factory, but then later withdrew the offer.