World Conker Championship draws thousands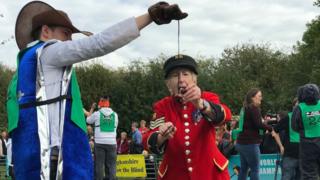 Thousands of conker fans have descended on a small village for the annual World Conker Championships.
About 230 competitors from 14 countries are battling it out at the games in Southwick, Northamptonshire.
But Mother Nature almost scuppered the games, as conkers fell early, resulting in a "terrible shortage". Luckily last-minute foragers managed to find the necessary 3,000 conkers just in time.
Since it began in 1965, the event has raised about £415,000 for charities.
Competitors take part in single and group heats throughout the day with the ultimate goal of being crowned the conker "king" or "queen".
This year's would-be conker conquerors have come from as far away as New Zealand, the US and Russia.
There is even a team of six Chelsea Pensioners, suitably robed in crimson uniforms.
One of them, Ray Pearson, 81, who managed a first-round win, said: "Like all battles in all wars you always want to win."
---
Official rules
Conkers are provided for each game and cannot be tampered with or reused
There must be at least 20cm (8in) of lace between knuckle and nut
Each player takes three alternate strikes at their opponent's conker, with a game decided once one of the conkers is smashed
If a game lasts for more than five minutes it is halted and each player will be allowed a further nine strikes
If neither conker is smashed then the winner will be the player who hit the nut the most times during this period
---
A new conker is used for every round, but organiser StJohn Burkett said it was a "last-minute battle" to scrape together enough for this year's competition.
"There's a terrible shortage because they fell early," he said.
"Usually they come down after the end of September, but this year they were all over the place from 21 September."
Conkers are only good for fighting with once they have dropped, but if they have been on the ground too long they harden, he explained.
"A hard conker will always win, so we have to choose and sort the very best that are of an equal quality."
In a last-ditch effort to gather enough, he and volunteers trekked far and wide.
"I went to seven conker trees and only found 12 that were suitable," he said.
Proceeds from the day are shared among a number of charities for the blind and partially-sighted.