Wiltshire Police officer tested amid Novichok fear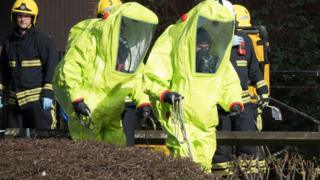 A police officer is being tested at a hospital in Salisbury for possible exposure to the nerve agent Novichok.
The officer – believed to be with the Wiltshire force – is being treated a short distance from Amesbury where Dawn Sturgess, 44, and her partner Charlie Rowley, 45, fell ill last Saturday.
They remain in a critical condition after being exposed to Novichok by handling a contaminated item.
It is believed the officer initially attended a hospital in Swindon.
A Salisbury District Hospital spokesperson said: "There is nothing to suggest there is any wider risk to anyone at the hospital."
"The individual is now being taken to Salisbury District Hospital which has the ability to carry out the appropriate specialist tests.
"Salisbury District Hospital has seen a number of members of the public who have come to the hospital with health concerns since this incident started and none have required any treatment.
"We would like to reiterate the advice from Public Health England that the risk to the wider public remains low."