What are people's experiences of living in a shared home?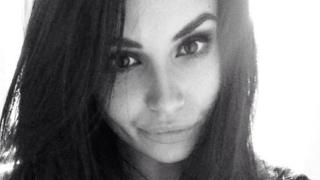 Landlords have warned tenants in shared houses could face eviction or rent increases because of a change to government rules. But what is it like to live with strangers? We asked three people to tell us about their experiences.
Houses in multiple occupation (HMOs) are homes where people, who are not related, sleep in separate rooms but share facilities such as kitchens or bathrooms.
Previously only houses of more than three storeys and with five or more people forming at least two households had to be licensed.
A new rule has been introduced that removes the three-storey threshold and applies to smaller homes.
'They cram as many people into one space'
Shanice Ireland, 25, moved into her first shared house after leaving her mum's home in May.
She says her landlord has "crammed" four people on to the ground floor of the end-terraced house in Hemel Hempstead, Hertfordshire.
"The upstairs is then rented out as a flat where people come and go, it is almost like a hotel," she said.
"We've had builders, a family of four and tourists going to the Harry Potter experience, so you often have people getting drunk and being loud.
"It has no soundproofing so when they are walking around and talking I can hear everything."
Shanice says she hates living in an HMO, which costs her £800 a month, and wants to get out as soon as possible.
"I haven't cooked in this place once. It's such a small kitchen with four people trying to cook, I just go to my mum's to cook.
"I literally just use it to sleep in. It is a bit of a rip-off."
Shanice, who works in Watford as an IT reseller, says she would leave if her landlord increased her rent.
"If they were going to rent it normally as a house they would never make as much money as they do by splitting it up.
"They just try and cram as many people into one space."
'Landlords forget we call these places our home'
Anna Mäkinen has lived in five shared homes since she moved to England from Finland in 2013.
The 26 year old says at the worst place she stayed in Whitechapel, east London, there were seven people living in a three-bedroom house.
"I was living in the living room. We had one girl living on a balcony. It had a roof and was sealed but the wind would come in.
"When I moved into where I live with my boyfriend now there was still painting to be done and the floors needed to be finished.
"We had to put our stuff on the balcony and it got wet."
Anna, who works in HR, now lives in an HMO in east London with her boyfriend and two other women.
She hopes the new legislation will mean people in shared houses have a better standard of living.
"Our landlord has been overpromising for seven months to fix things that aren't working.
"We had mice in the house and had to get rid of the problem on our own and with our own money.
"I have tried to contact the council but we never get any help. They said it was the landlord who needed to fix it.
"I understand the market is competitive but I feel like landlords have completely forgotten that we call these places our home."
'One bloke smashed the place up with a hammer'
Liam Moyna lived in about 20 different shared houses over a 20-year period after leaving university.
He says he rarely had a problem with landlords but often had issues with the people he lived with.
"I found it was a bit of a mixed bag with anything from PHD students to people who are just out of prison," the 43-year-old added.
He said he had once lived in a house with a drug dealer.
"One bloke turned into a nightmare when he had a drink and smashed the place up with a hammer once," he said.
"The houses have generally all been nice and the landlords have been brilliant."
Liam thinks there should be legislation to stop landlords being able to put too many people in houses.
"Young single men on a low wage make up a lot of the people I found in shared houses," the IT worker says.
"You've got these people who are almost forgotten, they coast along and are stuck there.
"The problems come from having too many people in a house. I think they should legislate against that. The houses are just not designed for it."
Liam, who bought his own house in Southampton this year, adds: "Most of the time you move because the landlord sells up.
"I certainly didn't have enough money to save up for a mortgage and that is what I found with a lot of housemates.
"I am one of the lucky ones."