Westminster 'paedophile ring' accuser could face charges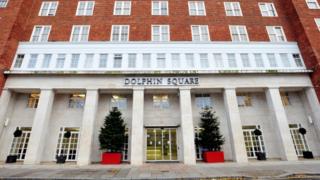 Prosecutors are considering charging a man who alleged there was a paedophile ring at the heart of Westminster.
The Crown Prosecution Service said it had received a file from Northumbria Police about the man, who has legal anonymity and is referred to as "Nick".
His claims that he was abused for nine years sparked Operation Midland, which closed in 2016 without any charges.
The CPS said evidence that a person had perverted the course of justice and committed fraud was being considered.
Murder claims
Operation Midland began in November 2014 after Nick, a man in his 40s, claimed he was abused for nine years from 1975 – when he was seven – to 1984.
The Metropolitan Police Service spent almost 18 months examining claims that senior politicians and other public figures had sexually assaulted children in the 1970s and 1980s.
It was also alleged that three boys had been murdered.
After the Met dropped the case, it asked Northumbria Police to investigate Nick.
Now, Northumbria Police has provided a file of evidence, which the CPS will consider before deciding whether to charge Nick.
BBC home affairs correspondent Danny Shaw said the allegation of fraud is understood to relate to an application Nick made for compensation from the Criminal Injuries Compensation Authority.
The agency enables people who have been physically or mentally injured because they were the blameless victim of a violent crime in England, Scotland or Wales to make compensation claims.
Last week, it emerged the Met had paid compensation to retired field marshal Lord Bramall and the family of the late Lord Brittan over false accusations of child sex abuse made by Nick.
Former head of the Army Lord Bramall and ex-home secretary Lord Brittan were accused by Nick, along with ex-Conservative MP Harvey Proctor.
The former Met Police commissioner Sir Bernard Hogan-Howe apologised last year to Lord Bramall, Mr Proctor and the family of Lord Brittan "for the intrusion into their homes and the impact of Operation Midland on their lives".
Mr Proctor is continuing his legal claim against the police.
Former judge Sir Richard Henriques previously criticised Operation Midland for inaccuracies in search warrants used to search the homes of those accused, and failing to properly assess the credibility of Nick.
Sir Richard also said the investigation went on too long, and detectives lacked key information.
The Met was also criticised for describing the allegations as "credible and true" early in the inquiry.