Welsh climber killed in Yosemite rock fall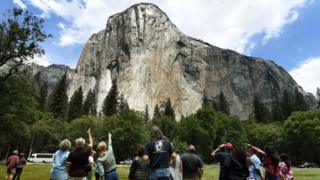 A Welsh climber has been killed by a rockslide in Yosemite National Park in California, officials have said.
The man was trapped alongside his partner when rocks fell from El Capitan, a rock formation above Yosemite Valley.
It happened shortly before 14:00 local time (21:00 BST) on Wednesday.
The woman remains in a "critical condition" after being airlifted from the collapse, park officials said.
El Capitan is the world's largest granite monolith and one of the best-known landmarks in Yosemite.
The pair, found with climbing equipment, are believed to have been scouting out the ascent from a trail when a "sheet" of granite plummeted from a height of 200m (656ft).
"With all the craziness I don't exactly know where they were going but chances are they were going up," said Yosemite park ranger and spokesman Scott Gediman.
"From what I understand they were buried under rock… they were crushed by falling rocks."
They are the only known casualties despite being with a group of other climbers but a search is ongoing.
Mr Gediman said the man's identity would not be released ahead of his family being informed but confirmed he was from Wales.
It is unclear whether the partners were married and her nationality is unknown, he added.
This is the first death from a rock fall in the park in 18 years when another climber was killed, according to the National Park Service.
A Foreign Office spokesman said: "We are in contact with the local authorities and providing assistance to both families at this very difficult time."
The park remains open and visitor services are not affected.