Wales smacking ban plan goes to public consultation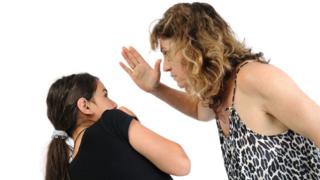 Plans to outlaw smacking children in Wales are going out to a three-month consultation.
Ministers said removing the defence of reasonable punishment would make it clear smacking was "no longer acceptable".
Charities including the NSPCC said this would bring Wales in line with dozens of other countries.
But campaigners against the law fear it could criminalise ordinary parents.
Minister for Children and Social Care, Huw Irranca-Davies, said: "As a parent of three boys myself, I know being a parent can sometimes be a challenging experience.
"Our knowledge of what children need to grow and thrive has developed considerably over the last 20 years. We now know that physical punishment can have negative long-term impacts on a child's life chances and we also know it is an ineffective punishment."
Scotland became the first part of the UK to confirm plans to outlaw smacking children last year.
Now ministers in Wales want parents to choose "positive and more effective methods".
The proposed law would not involve creating a new offence but would instead remove the defence to the existing offences of assault and battery.
So, any adult looking after a child would no longer be able to use physical or corporal punishment against them.
Physical punishment has already been outlawed in schools and childcare facilities but Mr Irranca-Davies said it was time "to ensure it is no longer acceptable anywhere".
The Welsh Government is now allowed to legislate in areas of parental discipline, under the new Wales Act.
The consultation runs until 2 April.