Waddesdon air crash: Families visit wreckage site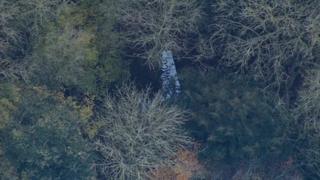 Families of the victims of a mid-air crash between a helicopter and a plane have visited the site of the wreckage.
Two people in each aircraft were killed in Friday's crash at Waddesdon Estate, near Aylesbury in Buckinghamshire. There were no survivors.
Thames Valley Police said all four were men. Capt Mike Green was in the helicopter, the BBC understands.
His friend Capt Phil Croucher said he was a "respected helicopter instructor who will be remembered with affection".
"It's a sad loss. We have lost somebody with a vast amount of experience that could have been passed on to younger people, apart from him being a nice guy generally," he told the Press Association.
The wreckage of the aircraft is scattered in a wooded area.
Investigations at the site, conducted by police and the Air Accidents Investigation Branch (AAIB) are expected to continue for several days.
Supt Rebecca Mears said: "With the ongoing support of emergency services, work is continuing to recover the men's bodies.
"We anticipate that this will happen by the end of the day."