US President Donald Trump 'to visit UK in 2018'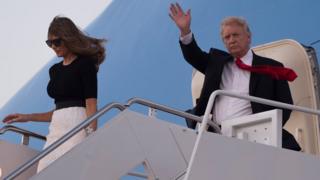 US President Donald Trump is likely to come to the UK next year, the BBC understands.
Downing Street and the White House are believed to be looking at options for the visit.
Mr Trump accepted the Queen's invitation for him to travel to Britain on a state visit when UK PM Theresa May visited Washington in January.
But the prospect of a state visit caused much controversy and reportedly led Mr Trump to change his mind.
It was said he did not want to visit while there was potential for protests against him.
Confirmation of Mr Trump's visit had been expected in last month's Queen's Speech, in which the Queen set out her official plans for the year.
But there was no mention of it, and October was later mooted as a possible date.