University strikers reject pension deal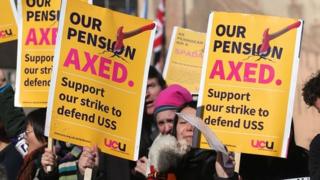 University strikers have turned down an agreement reached by university union leaders and employers to end the pensions dispute.
University staff opposed to the deal have pushed for a more "decisive victory".
It means the strike will continue – with threats to final year exams and assessments in the summer term.
The strike over university pensions has lasted four weeks and cancelled classes in over 60 universities.
Deal turned down
"The strike action for this week remains on and we will now make detailed preparations for strikes over the assessment and exam period," said Sally Hunt, the leader of the University College Union.
"We want urgent talks with the universities' representatives to try and find a way to get this dispute resolved."
On Monday evening an agreement was announced by the UCU and Universities UK, after talks at the Acas conciliation service.
This would have put disputed changes to pensions put on hold – and a temporary deal would have tackled the deficit, with talks to re-open on long-term pension arrangements from 2020.
There would also be an independent re-evaluation of the size of the pension scheme's deficit.
The agreement also indicated that universities would be expected to re-schedule classes disrupted by the strike.
But this has been rejected by a meeting of the union's representatives – with warnings that it was "completely unacceptable" after weeks of strikes and loss of earnings.
An open letter from staff opposing the deal had argued that it was only postponing long-term decisions about the pension scheme and called for industrial action to continue to "force a more decisive victory".
Universities UK had told vice chancellors that if the agreement was not accepted the previous pensions proposal would be reinstated, with the "likely outcome" that there would be more strikes in April and May.
The universities minister Sam Gyimah has called for students to be given refunds on fees for lost teaching time.