University heads asked to justify pay over £150,000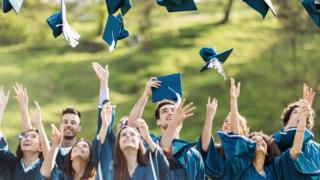 Spiralling rates of pay for university vice-chancellors are to be curbed by a series of new measures being set out by the universities minister.
Jo Johnson urged institutions to show restraint, when it emerged that dozens of university heads were earning £300,000, and some more than £400,000.
Now, he wants universities to justify pay rates topping £150,000 a year to a new regulator, the Office for Students.
Details of staff earning above £100,000 year would also have to be made public.
Universities have argued that their leaders are managing large institutions, have enormous responsibilities and huge budgets, and therefore command large salaries.
Mr Johnson will set out the plans in a speech to university heads at the annual conference of the umbrella body Universities UK, in west London on Thursday.
Fines for high pay
The plans, which will be consulted on, could see the Office for Students using its powers to impose fines if institutions do not give good reasons for high pay.
The new regulator, which is to be headed by Nicola Dandridge, the former chief executive of Universities UK, will also issue new guidance on the role and independence of pay committees.
Mr Johnson, will tell vice-chancellors: "The debate over student finance has, rightly, increased public scrutiny of how universities spend the money they receive from fees.
"When students and taxpayers invest so heavily in our higher education system, excessive vice-chancellor salaries send a powerful signal to the outside world.
"Greater restraint is required."
'Shadowy committees'
He added: "Exceptional pay can only be justified by exceptional performance, which is why I will ask the new Office for Students to take action to ensure value for money and transparency for students and the taxpayer."
The overall cost of salary and benefits for vice-chancellors rose 2.5% to an average remuneration of £257,904 in 2015-16 on the previous year.
When pension contributions are included, the rise was 2.2% to an average of £280,877.
And several high profile cases revealed pay levels substantially higher than this.
Imperial College London pays its vice-chancellor, Alice Gast, £430,000 a year. She was recruited from an American university some years ago where she was paid £679,754.
The University of Birmingham pays Sir David Eastwood a salary of £426,000.
Sir David was previously chief executive of the Higher Education Funding Council since 2006 – the post responsible for overseeing the university finance system in England.
University of Exeter vice-chancellor, also a former chairman of Universities UK, Sir Steve Smith receives £426,000, according to the Times Higher Education newspaper.
The Russell Group, an association which represents 24 leading UK universities, says its institutions "recognise the need to act responsibly".
Dr Tim Bradshaw, acting director of the group, said: "Russell Group universities have demonstrated strong and effective governance around senior remuneration and will continue to do so."
But, he did admit the universities operate in a competitive market, saying salaries help to maintain the UK's position as a "world leader in science and innovation".
'Justified'
General secretary of the University and College Union Sally Hunt said soaring vice-chancellor pay, which her union has highlighted over the years, had become a real embarrassment for the higher education sector.
She accused vice-chancellors of hiding behind "shadowy remuneration committees".
She said: "Over two-thirds of vice-chancellors sit on their own remuneration committees, and three-quarters of universities refuse to publish full minutes of the meetings where leadership pay is decided."
Prof Janet Beer, president of Universities UK and vice-chancellor of the University of Liverpool, will say in her speech to the conference it is understandable that high pay is questioned.
She will say it is right to expect that the process for determining pay for senior staff is rigorous and the decision-making process is transparent.
"It is also reasonable to expect that decisions are explained and justified," she will say.