University Challenge student cleared of rape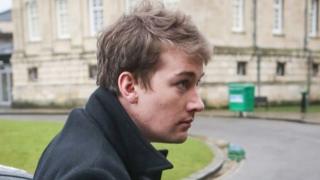 A former student who appeared on the BBC TV quiz show University Challenge has been acquitted of rape.
Bartholomeo Joly de Lotbiniere, 22, had been accused of attacking a woman in her University of York halls of residence in 2014.
He was found not guilty of charges of rape and assault by penetration at Bradford Crown Court.
The woman, now 22, had gone to police after seeing the him on the television programme in 2015.
She said she had "got angry and upset" by tweets about Mr Joly de Lotbiniere's surname by Pointless host Richard Osman.
Read more about this and other stories from across Yorkshire
When he was charged Mr Joly de Lotbiniere, from London, denied it and said "these are horrible, horrible lies."
He said the couple had been out in York and then returned to her room and started to kiss.
He left to get a condom and then returned. He said he had struggled to get an erection and the couple agreed to stop.
"There was no point going any further," he told the jury.
"We both just agreed to stop. I think she said 'let's just stop'."
Embarrassed
He insisted the woman did not try to stop him or push him away.
The court also heard about text messages between the two.
Mr Joly de Lotbiniere's replies included one saying: "I was a disgrace, I did a very stupid thing and I am very sorry for what I did."
He told jurors that this was due to his embarrassment over what happened.
He said it was only his second sexual encounter and he had tried to pretend he was comfortable with a one night stand which he was not.
He faced a retrial after a jury at his original trial failed to reach a verdict at York Crown Court in February.