Unemployment across UK shows slight fall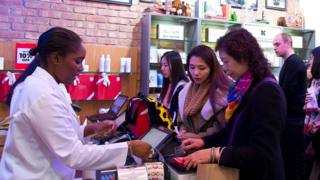 Unemployment fell by 27,000 in the three months to February to 1.34 million, official Office for National Statistics (ONS) figures show.
The number of people in work remained virtually unchanged at a record high of 32.7 million, with a jump of 179,000.
The figure has increased by 457,000 over the past year, all among full-time employees and the self-employed.
Average weekly earnings, excluding bonuses, had an estimated rise of 3.4%, before adjusting for inflation.
When adjusted for inflation, pay, including bonuses, increased by 1.6% on the year, the highest figure since the summer of 2016.
The UK's unemployment rate of 3.9% is now lower than at any time since the end of 1975.
ONS deputy head of labour market statistics Matt Hughes said: "The jobs market remains robust, with the number of people in work continuing to grow.
"The increase over the past year is all coming from full-timers, both employees and the self-employed.
"Earnings have now been growing ahead of inflation for over a year, but in real terms, wage levels have not yet returned to their pre-downturn peak."