Uber's licence suspended in Sheffield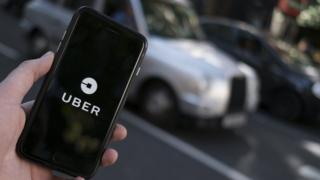 Uber has had its licence suspended in Sheffield after it failed to respond to official requests about its management, the city council has said.
The firm can still operate until 18 December and can appeal against the decision, the council said in a statement.
If it decides not to appeal, the suspension will come into force.
The taxi app firm is still fighting a ban in London after it lost its licence there in September.
Transport for London, which has criticised the firm's record over reporting criminal offences and carrying out driver background checks, decided not to renew Uber's London licence after it deemed the firm "unfit" to run a taxi service.
A Sheffield City spokesperson said: "Uber's licence was suspended last Friday (29 November) after the current licence holder failed to respond to requests, made by our licensing team, about the management of Uber.
"We received a new application, for a licence to operate taxis in Sheffield, from Uber Britannia Limited, on 18 October 2017 which we are currently processing.
"Any new application is dealt with by the Licensing department, who will decide if those applying for the licence meet the criteria. It will only be referred to the licensing sub-committee if a decision by the committee is required.
"The legislation does not allow for the transfer of an operator's licence."