Three Worthing girls missing since Brighton trip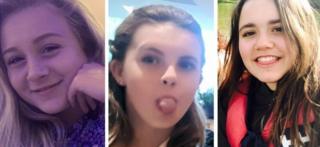 Police are searching for three girls missing from the Worthing area.
Joliebelle Wheeldon, 13, Sophie Norris, 12, and Clarice Hall, 13, travelled into Brighton over the weekend but did not return home.
Clarice and Joliebelle left for Brighton on Saturday and Sophie on Sunday. The girls are friends and are believed to be together.
Sussex Police said it was unlike them to go missing, and officers are appealing for information.
Clarice is 5′ 6″ with very long straight brown hair and was last seen wearing a black Adidas T-shirt, grey hooded top, blue jeggings, black trainers and black coat.
Joliebelle is 5′ 2″ and has shoulder length blonde hair. She was last seen wearing a grey top, black ripped jeans, black trainers and carrying a black Adidas bag.
Sophie, 5′ 5″, was in a grey, hooded, Justin Beiber jumper, skinny blue jeans, black jacket and white Nike trainers