Thousands march in Edinburgh for Scottish independence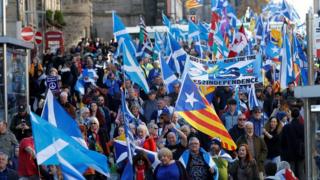 Tens of thousands of people are marching through Edinburgh in support of Scottish independence.
A mass rally at Holyrood Park at the end of the march is going ahead despite a ban from the body responsible for the park.
Historic Environment Scotland said on Saturday its priority was to "facilitate the march safely".
They had earlier said a rally could not be held as events of a "political nature" are not allowed.
Independence supporters began gathering in the capital on Saturday morning with the march setting off from Johnston Terrace at 13:00.
Stalls and a stage have been erected in Holyrood Park.
The park, which sits next to the Scottish Parliament building, is managed by the public body Historic Environment Scotland.
On Friday, organisers of the march and rally, All Under One Banner, claimed that they had been "victorious" in their campaign to have the ban on the rally overturned.
The group, which said it expected up to 50,000 people to attend, wanted to hold a rally in the park after the march reaches the Scottish Parliament.
But Historic Environment Scotland told BBC Scotland on Friday that the police had not overturned the ban, and that All Under One Banner still did not have permission "for the set-up of stalls, staging, branding and other static presence within Holyrood Park".
On Saturday, a Historic Environment Scotland spokeswoman said: "Our priority for today is to work with our partners including Police Scotland to facilitate the march safely through Holyrood Park.
"We will review the situation after the march."
A Police Scotland spokesman said: "This will be an operational matter, dependent on circumstances at the time, on the day.
"Police Scotland would only consider using emergency powers in the interest of public safety."
Autumn conference
All Under One Banner said they were legally entitled to use the park under the country's "freedom to roam" laws.
They say the Land Reform Scotland Act allows them to remain in the park for recreational and educational purposes.
However, the rules say that the rights of others must also be respected.
The march is the latest in a series of All Under One Banner events to be held across Scotland in recent months.
It is being held the day before the SNP's autumn conference opens in Glasgow.