The college cleaner no-one knew was a slave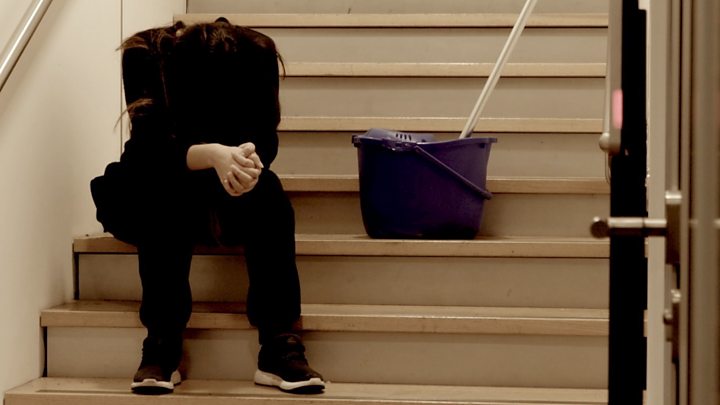 A UK helpline for reporting modern slavery dealt with cases involving 5,000 potential victims in its first year, the Victoria Derbyshire programme has learned. Sara – who feared for her life – worked up to 20-hour days as a cleaner in a UK college, without anyone noticing.
It's 09:00, and Sara is mopping the corridors of the college where she works, as students arrive for their day.
She looks at them longingly, wishing she might one day be able to have an education like them, or wear nice clothes and make-up like they do.
But it seems a distant reality.
She has already been at work for six hours, and her day may not finish until 23:00 – without a break.
And she won't see a single penny for her labour.
This is because Sara is a victim of modern slavery.
Every day she works in full view of teachers, students and other staff members, but no-one knows her plight. They haven't made the connection.
And Sara's not going to say anything.
She has been told her children – whom she hasn't seen since she was trafficked from her home country – will be killed if she does.
"As a mother, how could I ever forgive myself, if I saw my children killed?" she thinks, feeling trapped.
It is difficult to see a way out.
Becoming 'free'
This is how Sara recalls her time as a slave, which ended just a few years ago.
We are not using her real name as her traffickers are still at large, possibly in the UK.
Sara was first enslaved aged 16 by her husband, whom she had married days earlier, and was forced to work both in her home country and the UK.
She was a slave for more than 20 years.
Her feet had become swollen and bloody, she had developed arthritis from years of hard labour, and she was constantly tired and depressed.
On the floor of the cold, empty storeroom where she stayed each night with several others – men and women – she was unable to sleep because of the nightmares.
But, fearing the death of her children, she put up with the conditions – and decided to flee only when she felt she had no other option.
At that stage she had become unable to walk – her legs black with bruises after falling over at work – and had, in effect, been left to die by her traffickers.
But with the help of a friend she was able to escape.
She contacted the Home Office and was immediately moved to a safe house with the assistance of the Salvation Army and, initially, Black Country Women's Aid.
It was the start of a new life although there were still many hurdles to overcome.
'Like Christmas Day'
Sara, understandably, was reluctant to leave the safe house, scared the traffickers would somehow find her.
"I wouldn't go outside for three days. I was too scared," she says.
"But then someone said they would come with me, so I decided to go. Then I did it again, and again."
And after years of being in a perpetual state of fear, she says she "slowly started breathing properly again".
It was also the first time in the UK she could spend her own money.
Previously her husband, who set up the job at the college, always received her wages.
"The first thing I bought were sanitary pads," Sara remembers. "It was very special, because before on my periods I had to use my clothes and they became very dirty.
"It was like Christmas Day," she jokes.
Sara is a warm and funny person.
She recalls watching Downton Abbey to help her learn English – and says one of the first words she learned was "indeed".
In plain sight
Sara is sharing her experience to highlight modern slavery.
There are at least 13,000 victims living in Britain's towns and cities, it is estimated.
Anne Read, from the Salvation Army, says Sara's story "powerfully demonstrates the awful truth that modern slavery is taking place under our noses in every corner of the country.
"The ways vulnerable people are exploited for other people's profits are limited only by the trafficker's imagination."
It is a sentiment shared by the National Crime Agency, which says the public "will very often see potential victims of modern day slavery", working at car washes, factories, nail bars, agricultural sites and fisheries among other places.
Unseen, a charity that runs a UK helpline for reporting modern slavery, told the Victoria Derbyshire programme it had 3,710 calls in its first year – with cases involving 4,886 potential victims from 94 different countries.
The Home Office said the UK was "leading the world in our response, with the Modern Slavery Act 2015 giving law enforcement the powers they need to pursue offenders, bringing the issue out of the shadows and increasing awareness among police, frontline workers and the general public".
'Always hope'
Despite everything she has been through, Sara is determined to make the most of her freedom.
But she is still separated from her children – who are now grown-up.
Whenever she talks about them, she cries.
"When I'm not thinking about what's happened, I feel free. But somehow, I'm not free. The fear is still in my heart.
"I want to go back to my home country and be with my children. But if I did, I would put us all in danger," she says. Her husband is believed to be in her home country.
Some aspects of her life, however, have improved immeasurably.
After years of watching people study, Sara has now gained some qualifications herself, and is hoping to go to university.
"I want to show people there's always hope," she says.
"You just need one chance – and help will find you."
Watch the BBC's Victoria Derbyshire programme on weekdays between 09:00 and 11:00 on BBC Two and the BBC News Channel.