Telford abuse: Victim numbers 'sensationalised'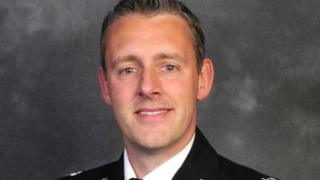 Reports on the scale of sexual abuse in Telford are "sensationalised", a police chief has said.
A Sunday Mirror investigation found up to 1,000 girls in the Shropshire town may have been victims of grooming gangs since the 1980s.
But, West Mercia Police Supt Tom Harding said he "significantly disputed" the figures.
"I don't believe Telford is any worse than lots of places across England and Wales," he said.
The newspaper said an 18-month investigation had uncovered Britain's "worst ever" child grooming scandal involving "abuse on unprecedented levels".
In the wake of the story's publication, Nazir Afzal, who led prosecutions against one child sex abuse ring said those cases were the "tip of the iceberg".
Telford MP Lucy Allan has also called for an independent inquiry and said white working class girls were being traded for sex in a "routine" manner.
But Supt Harding rejected a number of the claims.
'Invested large resources'
He said the police and local authorities in Telford were currently working with "approximately 46 young people" who were victims of child sexual exploitation (CSE) or considered "at risk".
Officials have "learned a great deal around CSE" and have invested large resources in tackling the problem, he said.
"I am confident that, in the main, we do know the scale of CSE," he said.
"Therefore, I significantly dispute the 1,000 plus figure and do feel it is sensationalised."
"Read the headlines, read the reports. What are they actually discussing?
"They're discussing cases from 20 or 30 years ago, offending back in the 1990s.
"We've never said there aren't cases, there are always cases we are working on and seeking to prosecute."
He also disputed claims offenders are predominantly groups of Asian men, adding: "You look at Operation Chalice and that was a prosecution that happened to be a number of Asian males.
"What I would say is sexual offending across Telford and Wrekin is virtually identically proportionate to the break-down of society, so it is not one particular section over others and we will tackle it wherever it is."
Ms Allan has previously called for a Rotherham-style inquiry into the allegations.
Telford and Wrekin Council, which initially resisted calls for a probe focused on the town, has since pledged its support for the idea.
Council leader and Labour councillor Shaun Davies, who previously said a national review chaired by Alexis Jay would suffice, has backed Ms Allan's plea.
Operation Chalice
Seven men were jailed in 2012 as part of West Mercia Police's Operation Chalice, including brothers Ahdel Ali and Mubarek Ali.
The force said more than 100 girls could have been targeted by the gang between 2007 and 2009.
Many of the seven men worked for or had connections with fast food restaurants across Telford.
Victims as young as 13 were plied with drugs and alcohol and sold for sex by men who posed as their boyfriends.
The men initially won the girls' trust by giving them presents such as mobile phones in an "almost boyfriend-girlfriend scenario", police said.
Speaking in 2013, Det Ch Insp Neil Jamieson said: "It then spiralled into them being shared with other men."
The girls were moved around the country for the purposes of sexual exploitation, he added.
Mubarek Ali was released in November last year after serving about five years behind bars. He was banned from returning to Telford and Shrewsbury.