Teenage bell-ringer rescued from Abingdon belfry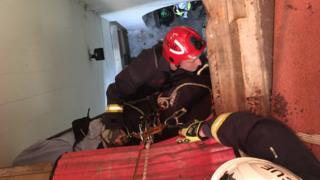 A teenager has been rescued by fire crews after he became tangled in a church's bell-ringing ropes.
Firefighters found the 17-year-old more than 40ft (12m) in the air inside the belfry of St Helens Church in Abingdon, Oxfordshire, at 19:00 GMT on Friday.
Crews used a rope rescue system to reach the bell-ringer who had suffered a number of injuries from the ropes.
He was lowered to the floor on a stretcher and taken to hospital. The extent of his injuries is unknown.
Station manager Paul Webster said "it was an unusual incident" for the firefighters.
"Due to the steepness of the spiral staircase to the bell ringing room, there was not the option to carry the casualty out of the church on a stretcher," he added.