Teacher hit by airgun pellet at school in Exeter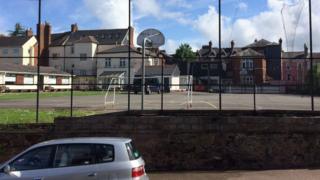 A teacher has been hit with an airgun pellet in front of young children in a school playground.
The woman, who works at St Wilfrid's School in Exeter, was hit in the chest by the pellet fired from outside the grounds, the school said.
She was given medical attention, but not seriously injured.
The pellet ricocheted off a wall before hitting her during a PE lesson on Tuesday at the independent prep school. Police are investigating.
More on this story and others from Devon
About eight children, aged seven to nine, were in the playground when it happened, at about 14:00 BST.
All were taken to safety inside the school and none were hurt.
St Wilfrid's said the playground had been placed out of bounds, and children were being kept away from the area, but that lessons and exams were continuing as normal.
A senior teacher at the school said he could "think of no reason for the shooting".
"Nothing like this has happened here before".
One parent said: "I'm very shocked about what's happened. A child could easily have been blinded."