Syria terror case: Eamon Bradley found not guilty over hand grenades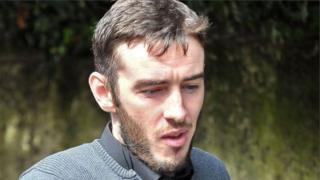 A Londonderry man has been found not guilty of possessing three hand grenades in Syria.
Eamon Bradley, 28, originally from Melmore Gardens in Creggan, Londonderry, had denied a total of six charges.
He had been charged with committing the offences between May and October 2014.
On the 12th day of his trial, the jurors told the judge that, so far, they have been unable to reach verdicts in the three other charges.
Those charges are that the defendant attended a terrorist training camp in Syria and that he received instructions on the use of assault rifles and in the use of two machine guns and a grenade.
The jury has been asked to continue with its deliberations in an attempt to reach a verdict on those three charges.