Suzy Lamplugh: Sutton Coldfield search enters day three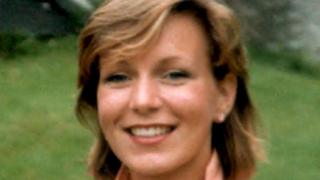 The search for missing estate agent Suzy Lamplugh's body has entered day three at a Birmingham home.
Ms Lamplugh, from London, disappeared in July 1986 aged 25. Her body has never been found and she was declared dead, presumed murdered, in 1994.
Searches began at the house in Sutton Coldfield on Monday, with police focusing on an area to the rear.
Owner Phillip Carey bought the Shipton Road home from the mother of prime suspect John Cannan.
On Tuesday, Mr Carey, 52, told the BBC he was yet to discuss with police whether he and his family would have to move out of the semi-detached house.
He said police were interested in what was underneath concrete where a garage once stood.
The iron structure was dismantled by police, Mr Carey said.
The Metropolitan Police is leading the operation, supported by officers from the West Midlands force.
Jim Dickie, a former Met Police deputy chief inspector who led a review of the case in 2000, told the BBC's Victoria Derbyshire programme police were likely acting on new evidence.
Ms Lamplugh disappeared after going to meet a client in Fulham. He was known only as Mr Kipper and was never traced.
No-one has ever been charged in connection with the disappearance, but in 2002 police named convicted killer Cannan as the only suspect.
He always denied any involvement and no prosecution has ever been brought, with police citing insufficient evidence.
Three days before Ms Lamplugh's disappearance, Cannan, now aged 64, was released from prison, where he had been serving a six-year sentence for rape.
He bore a strong resemblance to an e-fit of a man with whom the estate agent was seen talking on the day she went missing – thought to be the mysterious Mr Kipper.
According to reports, Cannan was nicknamed Kipper while serving his earlier sentence.
In 1989, Cannan was jailed for life for the abduction and murder of Bristol newlywed Shirley Banks and two further rapes.
Two sites in Worcestershire – a former Army barracks and a field outside the village of Drakes Broughton – and a woodland in the Quantock Hills, Somerset, have also been searched in the hunt for Ms Lamplugh's body.