Southwark Cathedral reopens doors after London attack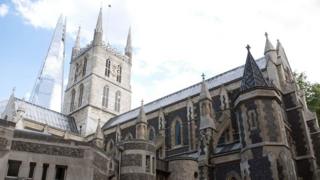 Southwark Cathedral is opening its doors this morning for the first time since the London Bridge attacks.
Eight people were killed when three men drove into pedestrians on the bridge before going on a stabbing spree in nearby Borough Market.
The cathedral was in the area that was cordoned off in the days after the attack on Saturday 3 June.
The Dean of the cathedral, The Very Reverend Andrew Nunn, said he would be preaching a message of hope.
Speaking ahead of the first service at 08:30 BST, he said: "Evil is not stronger than good.
"You know there are so many, many, many millions and millions of good people around the world.
"Life can be affected by a few evil people as we saw last week.
"Actually the strength of goodness is so much greater and that's what we are going to be proclaiming today as people come into church, and we'll be continuing to do that as we rebuild this community together."
All eight victims of the attack have been named.
They were 30-year-old Canadian national Chrissy Archibald; Australians Kirsty Boden, 28, and Sara Zelenak, 21; James McMullan, 32, from Hackney, London; Frenchmen Alexandre Pigeard, 26, Xavier Thomas, 45 and chef Sebastien Belanger, 36; and Spaniard Ignacio Echeverria, 39.
Since the attack, 20 people have been arrested, with 13 buildings searched. Seven people remain in custody.
The police said they had questioned 262 witnesses from 19 countries – of which 78 are classed as "significant" – but they believe there are more people with information and have urged them to come forward.