Smoking banned in Scottish prisons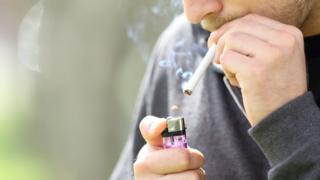 Scotland has introduced a smoking ban in prisons as part of an effort to help inmates quit.
It is estimated about 72% of Scottish prisoners smoke regularly, although sales of tobacco ceased in last week in preparation for the ban on Friday.
Vaping is still allowed and the Scottish Prison Service (SPS) has offered e-cigarette kits free of charge to prisoners who want them.
The SPS chief executive said the ban would bring "significant improvements".
The date of the ban was announced following a major report into prison workers' exposure to second-hand smoke in July 2017.
The study showed levels of second-hand smoke in some cells were similar to levels found in bars before Scotland's 2006 smoking ban.
It also said prison staff were exposed to similar levels of smoke as someone who lived with a smoker.
The report prompted the SPS to commit to making Scotland's prisons smoke-free by the end of 2018.
A similar ban has already been introduced in many prisons in England.
Prisoners were previously allowed to smoke in cells and some outside areas on prison sites, while staff were not permitted to smoke.
The SPS has worked with partner agencies on a number of services to help inmates quit such as cessation groups and access to nicotine replacements in every jail.
Free vaping kits are still on offer but will be sold at normal prices from April.
'Improved quality of life'
SPS chief executive Colin McConnell acknowledged it would be "difficult" for prisoners to give up smoking.
He added: "The percentage of people who smoke in prisons is much higher than the community at large.
"I fully understand how difficult it has been, and will continue to be, for many in our care to give up smoking and that is why we are committed to working alongside our partners in the NHS to provide every support possible to assist them.
"Having a smoke free prisons estate in Scotland will bring significant improvements to health, quality of life, and sense of wellbeing and assist in the reduction of health inequalities for all those in our care."
Commenting on this significant development, minister for public health Joe Fitzpatrick said: "Smoking kills around one in five people in Scotland, and four times as many people smoke in prisons as across Scotland as a whole.
"Providing a smoke-free environment in prisons will help create a Scotland where we reduce the use of and harm from tobacco and help achieve our aim of a tobacco-free generation."