Six held in far-right group National Action investigation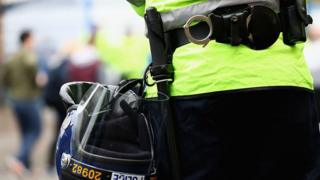 Six people have been arrested on suspicion of being members of the banned far-right group National Action.
Five men from Cambridge, Banbury, Wolverhampton, Leicester and Stockport – and a woman from Banbury – were detained by police earlier.
All six are being held at a police station in the West Midlands.
Police said the suspects, aged between 21 and 37, were detained under Section 41 of the Terrorism Act as part of a planned operation.
They were arrested on suspicion of being concerned in the commission, preparation and instigation of acts of terrorism, namely on suspicion of being a member of a proscribed organisation, National Action.
The six arrested people are:
A 26-year-old man from Cambridge
A 21-year-old man and a 37-year-old woman both from Banbury, Oxfordshire
A 28-year-old man from Wolverhampton
A 26-year-old man from Leicester
A 24-year-old man from Stockport
West Midlands Police said the arrests were intelligence-led and carried out in conjunction with a number of other counter-terrorism units across England.
"There was no threat to public safety," a force spokesperson said.
A number of properties are also being searched as part of the operation.
Who are National Action?
By Dominic Casciani, BBC home affairs correspondent
National Action became the first British neo-Nazi group to be banned after Home Secretary Amber Rudd said it was promoting violence and acts of terrorism.
Members and supporters applauded the murder of Jo Cox MP by a white supremacist – and the group had carried out a series of small, but confrontational, demonstrations in towns and cities throughout England.
One of its most notorious events saw masked members – many of them very young men – gathering outside York Minster to make Hitler salutes.
Since it was banned, detectives have been carrying out more and more investigations into the group which, to all intents and purposes, has organised itself in a similar way to the banned al Muhajiroun network – the extremist Islamist youth movement.
Both have used social media to target young people, attracting them with a simplistic us-and-them message designed to make them angry.
National Action was made a proscribed terrorist organisation in December 2016, the first extreme right-wing group to be outlawed in the UK.
A number of alleged members of National Action have been arrested since the group was banned by the government.