Short Strand explosion believed to be a pipe bomb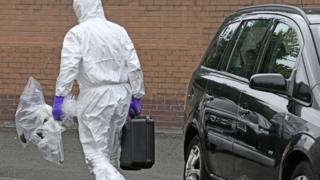 A device that exploded in the Short Strand area of east Belfast is believed to have been a pipe bomb, police have said.
The PSNI said they found the remnants of a device in Clandeboye Drive after reports of a "loud bang" at about 13:30 BST on Wednesday.
The explosion came after contractors removed material from a bonfire on Cluan Place.
A Sinn Féin councillor described the incident as "a sectarian attack".
"This was a reckless indiscriminate attack on homes in Clandeboye and it's fortunate that no one has been injured," said Mariead O'Donnell.
"This attack has naturally raised tensions in the local community and I am calling on people to remain calm."
The attack came after police in riot gear protected masked contractors as they removed material from the Cluan Place bonfire.
Bonfires are traditionally lit in many loyalist areas of Northern Ireland on the Eleventh Night – the eve of the Twelfth of July.
The fires mark William of Orange's victory over King James II at the Battle of the Boyne in 1690 and supporters say they are an important part of loyalist culture.