Scot's fake banknote ordeal 'almost over' in United Arab Emirates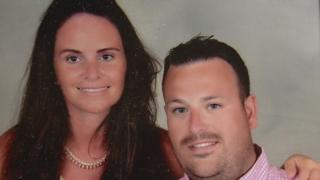 A charity representing an Edinburgh man detained in Dubai over a forged banknote has said he is due to have his passport returned later.
William Barclay was facing up to a year in jail after being accused of trying to exchange a fake £20 note during a family holiday last September.
When he returned on another holiday last month, he was held in jail for three days and his passport taken.
The charity Detained in Dubai said he had been promised the passport back.
He is then due to be escorted to the airport later on Wednesday so he can be reunited with wife Monique Fleming and his family in Scotland.
Ms Fleming told BBC Scotland the last three weeks had been "absolutely horrendous".
She said: "It's been terrible. Just waiting on a daily basis, wondering if we are getting him home.
"As the weeks have went in, I have wondered if we are ever going to get him home, if I'm honest.
"You start looking up the internet and you read horror stories about what's happened to people over there and that makes it a hundred times worse.
"It's taken a massive toll on the whole family, it has affected everybody. We haven't had a normal life for the past three weeks.
"Every day we've been on the phone to embassies, we've been on to MPs and we've had no answers back whatsoever. Billy has never had a visit – no one has been to see him.
"He gets his passport back at half past seven tonight. And hopefully we get him home tomorrow. After a long three weeks, it seems like three months. I'm so happy just to have him back."
Family reunion
Mr Barclay was quizzed by detectives for 12 hours after trying to exchange money at the Al Hamra Mall in Ras Al Khaimah in 2016.
He was accused of being in possession of counterfeit cash but then told no charges would be brought and was allowed to continue his family holiday.
On returning to Dubai on 15 September this year, with his wife Monique and two children, Mr Barclay was stopped at the airport and detained again.
Radha Stirling, of Detained in Dubai, who is representing Mr Barclay, said that without international support and publicity, he could have been held for many months, if not years, which has been the case with other British Nationals.
He said: "The Ras Al Khaima tourism development authority telephoned me today to advise that they had arranged for Mr Barclay's passport to be returned at 20:30 local time this evening.
"Ms Frei told me that they would escort him to the airport and make sure he is back in Edinburgh, reunited with his family as soon as possible.
"She also advised that they would pay for his hotel bills.
"She said that it was a police issue and that the government of Ras Al Khaima would be 'making changes for the future'.
"I have spoken with Billy and his family who are over the moon, relieved and excited that their ordeal has almost come to an end. They can breathe again."