Scotland's murder rate falls to lowest level since 1976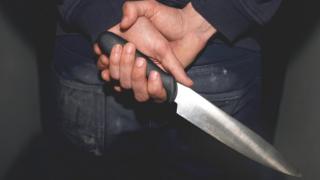 Scotland's murder rate has fallen to its lowest level since 1976, according to official figures.
The number of cases recorded by Police Scotland fell to 59 last year, down three on the previous 12 months.
Knives or other sharp instruments were used in 58% of the crimes. The report also revealed 76% (45) of the victims were male.
Over the 10-year period to 2017-18, the number of homicide cases in Scotland fell by 39% from 97 to 59.
Justice Secretary Humza Yousaf said the human impact behind the statistics could not be underestimated.
He said: "While the number of homicides in Scotland has fallen this year and has reduced significantly over the last 10 years, one death is one too many.
"Behind these figures are grieving families and friends and my sincere sympathies go out to all those who have lost a loved one."
Mr Yousaf vowed that the Scottish government was committed to helping people "break free from cycles of violence".
He added: "We will continue our efforts to drive down violent crime in our communities, both through education and enforcement, supporting prevention work with people of all ages and ensuring our law enforcement agencies and courts have the resources to deal with those who harm others."
The government statistics showed that half of female victims last year were killed by a partner or ex-partner while half of male victims were killed by an acquaintance.
Of the 81 people accused in homicide cases in 2017/18, 37% were reported to have been under the influence of alcohol, drugs or both.
The majority of deaths occurred in homes.
Only one of the 59 cases remains unsolved, according to the figures.
The statistics are the joint lowest number of recorded homicide cases for a single 12-month period since 1976, the first year for which comparable data is available.