Sacha Baron Cohen 'dupes' Sarah Palin for new TV series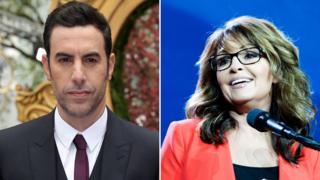 Former Republican vice-presidential candidate Sarah Palin says Sacha Baron Cohen "duped" her in an interview by posing as a wounded military veteran.
The Borat star has been secretly filming for a new satirical comedy series that will air on TV next week.
It was revealed on Monday the show – titled Who is America? – would explore "diverse individuals" in the US "across the political and cultural spectrum".
Palin wrote on Facebook: "Yup – we were duped. Ya' got me, Sacha. Feel better?"
She went on: "I join a long list of American public personalities who have fallen victim to the evil, exploitive, sick 'humour' of the British 'comedian' Sacha Baron Cohen, enabled and sponsored by CBS/Showtime."
Baron Cohen is best known for hoaxing interviewees as comedy characters Ali G, Borat Sagdiyev and fashion reporter Bruno, all of whom inspired big-screen films.
Palin, the former governor of Alaska, said she received a request to contribute to a "legit historical documentary" and travelled across the US with one of her daughters.
She wrote: "Baron Cohen (I presume) had heavily disguised himself as a disabled US Veteran, fake wheelchair and all.
"Out of respect for what I was led to believe would be a thoughtful discussion with someone who had served in uniform, I sat through a long 'interview' full of Hollywoodism's disrespect and sarcasm – but finally had enough and literally, physically removed my mic and walked out, much to Cohen's chagrin.
'How dare you'
"The disrespect of our US military and middle-class Americans via Cohen's foreign commentaries under the guise of interview questions was perverse."
Palin, who asked for the proceeds from the programme to be donated to charity, added: "Mock politicians and innocent public personalities all you want, if that lets you sleep at night, but HOW DARE YOU mock those who have fought and served our country.
"Truly sick."
Last week, the comedian teased his comeback with a preview clip showing former US vice president Dick Cheney apparently agreeing to autograph a "waterboard kit" – in reality a plastic water jug.
Who is America? will premiere on Showtime in the US on Sunday and the network has promised it will show the comedian and actor "as you've never seen him before".
The series will begin in the UK on Monday on Channel 4 at 22:00 BST.