Royal wedding 2018: Meghan Markle's father will not attend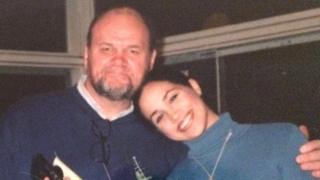 Meghan Markle says her father will not now be attending her wedding to Prince Harry on Saturday.
In a statement, she said she had "always cared" for her father and hoped he could be given the space he needed to focus on his health.
In recent days, doubts had been raised over whether Thomas Markle would be at the wedding to walk his daughter down the aisle.
On Wednesday, it was reported that he had to undergo heart surgery.
Mr Markle, who is understood to be in Mexico, was caught up in controversy after allegedly staging photographs with the paparazzi.
He later told US website TMZ he would not attend the wedding amid the controversy; then that he would; and then that he could not, due to a planned heart procedure.
Ms Markle's estranged half-sister, Samantha, said he had faced "unbelievable stress".