Rotherham child sex abuse probe: Three men found guilty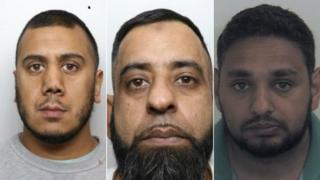 Three men have been found guilty of sexually assaulting a teenage girl in the first trial to come out of the National Crime Agency's investigation into historical abuse in Rotherham.
Sajid Ali, 38, Zaheer Iqbal, 40, and Riaz Makhmood, 39, were convicted by a jury at Sheffield Crown Court of a total of 15 counts of indecent assault.
The court heard the men had plied the girl with alcohol and encouraged her to perform sex acts on each of them.
The men will be sentenced later.
More stories from across Yorkshire
This trial is the first to come out of Operation Stovewood, the National Crime Agency's (NCA) investigation into child sexual exploitation and abuse in Rotherham between 1997 and 2013.
The girl, who cannot be named, was 12 years old at the time the abuse began in the mid 1990s.
She told the court she had not been popular at school when she started spending time with Ali, Iqbal and Makhmood, who she knew as 'Sos, Booty and Raz', but they had made her feel "wanted".
'Manipulated'
The girl said that she believed that Ali was her boyfriend.
However, she said that within weeks of meeting them they began to talk to her about sex.
The victim told the court she had not been forced to do anything but the men, who were teenagers at the time, had made her feel that she should.
In his summing up, Judge David Dixon said the three had "manipulated her to do what they wanted to do".
All three men had denied the offences, with Ali claiming not to know the girl at all, saying that it would not have happened in the close knit community in which they lived.
Ali, of James Street, Masbrough, Rotherham, was convicted of seven counts of indecent assault.
Iqbal, of St John's Avenue, Masbrough, was found guilty of five counts of indecent assault and Makhmood, of Falding Street, Masbrough, was convicted of three counts of indecent assault.