Rochester man admits planning London terror attack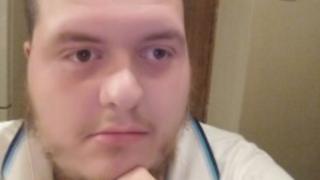 A man has pleaded guilty to plotting a terror attack on London's Oxford Street and raising money for terrorism.
Lewis Ludlow, 26, from Rochester, Kent, appeared at the Old Bailey via videolink from HMP Belmarsh.
He had planned to hire a van and hit pedestrians on Oxford Street as well as targeting Madame Tussaud's and St Paul's Cathedral, the Crown Prosecution Service (CPS) said.
He is due to be sentenced on 2 November at the Old Bailey.
A spokesman for the CPS said Ludlow had been under 24-hour armed police surveillance.
On 16 March, Ludlow went online to establish whether there was a police station on Oxford Street, before setting out to take pictures of the shopping area.
He took a picture near to the Oxford Circus Tube station and then a second one outside the Disney store.
Later, he photographed Madame Tussaud's and a bus shelter map of the area around the tourist attraction.
The images were stored in an encrypted application on his phone shared among supporters of the Islamic State group.
Ludlow, who also used the name Ali Hussain, had hoped to kill up to 100 people.
Hatred of unbelievers
When police searched Ludlow's home, they also found torn-up notes detailing when the targets would be the busiest.
The first note read: "Madame Tussads [sic]. Oxford street busiest time between 11 – 12 particularly Fridays. St Paul's Cathedral. Shia temple… Further locations scouted for the Kil [sic]."
A second read: "Crowded London Areas, Oxford Street – long road with no bollards or barriers preventing a van mounting the pavement. Busiest time is between 11am – 12pm with Saturday being the busiest day.
"It is a busy street it is ideal for an attack. It is expected nearly 100 could be killed in the attack."
Two further notes referred to accommodation and van rental.
The CPS spokesman said: "A mobile phone belonging to Ludlow was found in the storm drain of his home and contained photographs he had taken in March on a trip to London.
The phone also contained videos in which Ludlow stated his hatred of unbelievers and his desire to establish Sharia law.
Ludlow also pleaded guilty to setting up Facebook and Paypal accounts which he used to fund fighters based in the Philippines, the CPS said.
He had been previously questioned by police about his links to Anjem Choudary and the banned Al-Muhajiron group. Counter-terrorism officers had seen him attend demonstrations organised by the group. He was seen with or near Anjem Choudary and one of Lee Rigby's killers.
Ludlow also admitted raising funds for terrorist purposes but denied preparing a plan to travel to the Philippines to join jihadists there. That charge will remain on file.