Rise in lorry tachograph tampering on UK roads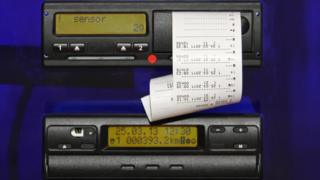 More than 440 lorries crossing into the UK last year were found with manipulated tachographs, Britain's road regulator has said.
Tachographs are on-board digital recorders which keep track of the number of hours a driver has been on the road.
The Driver and Vehicle Standards Agency believes a further 400 drivers were cheating, some using sophisticated "interrupters" to switch off the lorries' tachographs, but couldn't prove it.
The DVSA suspects that haulage bosses could be behind the use of the devices because they are complicated to install and are often found in more than one lorry from the same company.
"The results of falling asleep at the wheel of 44-tonne lorry can be devastating to families and communities," a spokeswoman said.
"Anything that means a driver can drive tired and we might not know about it or stop it is a worry. That's what we are here for, to keep the roads safe."
Braking systems
The DVSA carried out 223,000 roadside checks between April 2016 and March 2017.
5 live Investigates discovered there was a 21% increase in the number of drivers found with manipulated tachographs during that period compared with the previous year.
The tachograph interrupters are being used mainly by European drivers who cross into the UK.
One Bulgarian driver discovered with a manipulated tachograph in north Wales in March had driven 23 hours non-stop.
There is added danger because the interrupters disable a lorry's advanced braking systems and speedometers when they are being used.
Foreign-registered lorries make up around 5% of all haulage vehicles on UK roads.
Drivers 'pressured'
Dean Allan's mother, Diana, was killed by a driver who ploughed into the back of her car when he fell asleep at the wheel of his lorry.
Claudiu-Ioan Almasan was jailed for causing death by dangerous driving. He had not been been driving over his permitted hours nor had he cheated his tachograph when he hit Mrs Allan's car, but he had stayed up late on the night before the crash.
"He was waiting for a phone call from his wife in another country and he'd stayed up late that evening to take the call, but he started his shift early the next morning," said Mr Allan.
"He didn't deliberately set out to do what he did on the day – he was too tired. "
Local investigations suggest the use of the interrupters is higher than that found by the DVSA.
Sgt Steve Warren has been involved in a recent operation which arrested and charged 22 drivers who had been using the devices in Nottinghamshire.
"Unfortunately, some of these drivers are not earning a lot of money," he said. "And they are telling us they are getting pressure from the company to use the device. I think they are readily available now and there are a lot more fitted to the vehicles."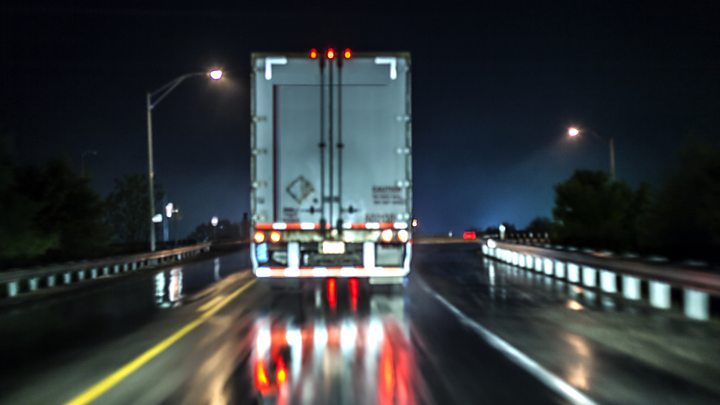 Road transport unions and trade bodies say hauliers from other European countries will risk getting caught with the technology because the penalties here are small, often a £300 fixed penalty.
But British companies whose drivers get caught manipulating their tachographs can be taken off the road by the Traffic Commissioner, which licenses hauliers in England, Scotland and Wales.
A European Commission initiative, called the European Register of Road Transport Undertakings, means an offence committed by a driver in one European country can lead to the closure of that driver's company in his or her home country.
But 5 Live Investigates found no evidence that the powers have ever been used in the five years the system has been working.
Neither Portugal nor Poland – whose drivers were caught 55 and 467 times last year respectively while driving with falsified tachographs on UK roads – have connected to the computer network yet.
The European Commission is taking legal action against those countries, and Luxembourg, for not setting it up.
The commission told 5 Live Investigates the system was being actively used to swap intelligence, but admitted take-up had been lower than expected.
It said it was up to member states to use the system to enforce road offences committed in other countries.
---
5 live Investigates: Tachographs is broadcast on BBC Radio 5 live on Sunday 24 September at 11:00 BST. If you missed it, you can catch up on the iPlayer.
Have you got something you want investigating? We want to hear from you. Email us.