Reality Check: Why do fuel prices vary so much?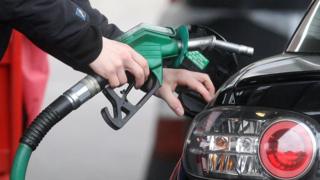 Readers have been in touch following last week's reporting of rises in fuel prices to ask about their local prices.
The article reported the RAC saying that average petrol prices had risen by 6p a litre in May, which was the biggest monthly increase since it began tracking prices 18 years ago.
Ian Gander asked why fuel around Towcester, in Northamptonshire, appeared to be more expensive than in most other regions of the UK.
And Dilys Eagle said her son had been in Taunton, in Somerset, just after Easter and had been amazed to find petrol at 110.99 per litre. She asked how it was so cheap.
If you look at this chart, the regional average prices for unleaded fuel don't vary a great deal, with a difference of less than 1.5 pence per litre between the most and least expensive, and a variation of 1.8 pence for diesel.
But the differences between the most expensive and least expensive fuel in those regions are much bigger, with variations of as much as 35 pence a litre.
Local pricing
The main driver of petrol prices is how much competition there is and whether there is any competition from supermarkets.
Looking at Towcester, on petrolprices.com there appear to be only four petrol stations in a five-mile radius – three BP and one Shell – and no supermarkets. On the day I looked, they were charging between 135p and 140p per litre.
Taunton, on the other hand, has 10 petrol stations in a five-mile radius, including Asda, Morrisons and Sainsbury's. When I looked, they were charging between 118p and 127p per litre.
The interesting thing about supermarket fuel is that while all the supermarkets have national pricing on groceries (allowing for different pricing for different formats of stores), they vary their fuel prices across the country. In Liphook in Hampshire, for example, Sainsbury's charges about 14 pence a litre more than it does in Taunton.
Expensive areas
Beyond competition, there are retailers in remote locations that sell low volumes and will charge higher prices because otherwise they can't cover their overheads.
There may also be factors that make it more expensive to run a filling station, such as being in a remote area (which makes deliveries marginally more expensive) or a particularly expensive area such as central London.
Motorway service stations tend to charge higher prices because motorists have to use them unless they are prepared to leave the motorway.
At the end of March, Transport Secretary Chris Grayling called on the Competition and Markets Authority to launch an investigation into fuel prices at motorway service stations, calling them "exploitative".
Petrolprices.com published a list earlier this year of the towns with the highest prices, although Experian Catalist, which provides its data, warns that those might not actually be the most expensive because not all filling stations give it price figures, and that independent stations in rural areas are less likely to provide their information.
The towns on the list are places such as Woolacombe in Devon, where there is not much competition and which is relatively remote.
Also on the list is Markfield, in Leicestershire, which is near a junction of the M1. And the report says its prices can be inflated by that because motorists expect to pay more on motorways.
So generally, fuel is cheaper in bigger towns and cities that have plenty of competition and supermarket filling stations, while it is more expensive on motorways and in remote areas and those with little competition.