Prince William visits ancient city in Jordan during royal tour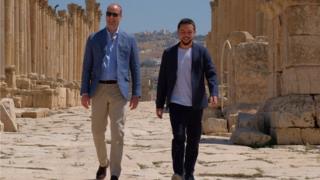 The Duke of Cambridge is spending the day in Jordan as he continues his royal trip to the Middle East.
Prince William visited a Roman archaeological site where he met young people helped by a charity refugee programme.
His wife, Kate, visited the ancient ruins during the 1980s.
Later, the prince, 36, will become the first royal to make an official visit to Israel and the Palestinian territories.
The duke and the Crown Prince Al-Hussein bin Abdullah II – who on Sunday watched the England football match together – arrived at Jerash, the ruins of a Roman city dating from the first century.
The Duchess of Cambridge was photographed there as a girl with her father, Michael Middleton, and sister, Pippa, during a visit in the 1980s.
She moved to Jordan in 1984 when she was two years old, after her father, a British Airways manager, relocated to the capital of Amman. She spent nearly three years there and attended an English language nursery.
The duke said on Sunday that his wife "loved" living in the country, adding: "She is very upset that I am coming here without her."
Prince William was photographed in the same spot, adding: "Need to come back with the family for this shot."
He laughed when he was shown an enlarged copy of the photograph and said: "Michael's looking very smart in his flip-flops."
During the visit to Jerash, the prince met Syrian refugee children benefitting from Unicef's Makani programme, which offers psychological support for parents and children from deprived backgrounds, especially refugee communities.
At a garden party in honour of the Queen's official birthday on Sunday, he told an audience of Jordanians: "The way in which you opened your doors to hundreds of thousands of refugees from Syria, not to mention your longstanding commitments to Palestinian refugees, is remarkable."
He also visited a military base of the Quick Reaction Force – formed with British military support – to meet members of Jordan's armed forces.
Later on Monday, he will visit a charity that helps women develop career skills.
During Prince William's five-day tour of the region, he will meet both Israeli Prime Minister Benjamin Netanyahu and Palestinian Authority President Mahmoud Abbas.
Kensington Palace said the "historic nature" of the tour was "important".
The trip comes as Israel celebrates the 70th anniversary of its foundation, and amid a rise in tensions between Palestinians and Israelis.
There has been an upsurge of violence across the Israel-Gaza border in recent weeks, with more than 100 Palestinians killed during protests and dozens of rockets fired into Israel from Gaza.