Prince Harry and Meghan Markle begin Commonwealth work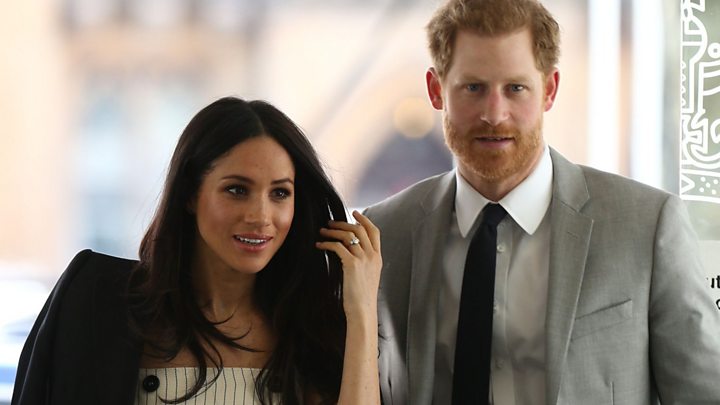 Meghan Markle has been hailed "a great champion and ambassador for women" as she visited the Commonwealth Youth Forum alongside Prince Harry.
The couple, who will marry in Windsor on 19 May, met about 40 young leaders as part of the Commonwealth Heads of Government Meeting (CHOGM) in London.
Karuna Rana, from Mauritius, told Ms Markle she should start her own women's rights campaign.
Harry said Ms Markle was "hugely excited" to join him in his duties.
Ms Rana said she asked the former actress to start up an equivalent to the UN's HeForShe campaign, which aims to get men and boys involved in the fight to achieve gender equality.
"I said she was a great champion and ambassador for women and that she should start a SheForShe campaign," Ms Rana said.
"She said she'd think about it – right after May 20th."
Prince Harry has been appointed a Commonwealth Youth Ambassador by the Queen, but it is unusual for someone not yet married into the Royal Family to be included in a high-profile summit like CHOGM.
Referring to the Commonwealth, Ms Markle told some of the youth delegates: "You have this umbrella to hold you together.
"It's incredible. Stay in touch – maximise it."
Australian delegate Jacob Thomas, who works with the Commonwealth Equalities Network on Sexual Orientation and Gender Identity, spoke to Ms Markle about LGBT rights.
Earlier this week, Prime Minister Theresa May spoke of her "regret" at Britain's role in creating laws criminalising same-sex relationships while a colonial power.
Mr Thomas said Ms Markle "really laid down the key point that it's [about] basic human rights".
The Youth Forum aims to encourage young people to debate challenges facing their generation, and agree youth-led initiatives to help solve those challenges.
Ms Markle and the prince will also attend a Women's Empowerment reception on Thursday, hosted by Foreign Secretary Boris Johnson.
The event involves charities and organisations that work to promote global gender equality through girls' education.
Heads of the 53 Commonwealth nations are also attending events in both London and Windsor as part of the CHOGM summit, which is staged every two years to discuss the major challenges facing the Commonwealth's 2.4 billion citizens.