Prince George asks Santa for police car on dad's Finland trip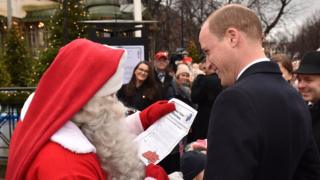 Young Prince George only wants one thing for Christmas this year – a toy police car.
The request was passed on to Father Christmas by the prince's father, the Duke of Cambridge, during a trip to Finland's capital city Helsinki.
The Duke met Lapland's most famous resident at a Christmas market, where he produced the handwritten note.
"He hasn't written down many requests, so I think one request is probably OK," he said.
The form began with the printed sentence: "Dear Father Christmas this year I have been naughty/nice." George had circled 'nice'.
His father backed him up, telling Santa that George had "been a nice boy".
The form allows for five options but the single-minded youngster offered "police car" – in big, clear writing – as his one and only option.
The four-year-old prince also signed his name at the bottom of the form.
While the pregnant Duchess of Cambridge remains at home in London's Kensington Palace, the Duke is on a solo visit to Finland where he is scheduled to meet former US vice president Al Gore and Crown Prince Daniel of Sweden at a technology festival.
He will also visit a comprehensive school to see the ways in which the Finnish education system is focusing on mental well-being, one of the prince's core campaign areas.