Piglet taken home in traffic cone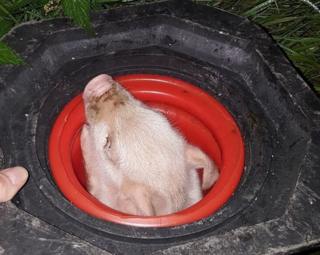 An on-the run piglet making a bid for freedom was halted in his tracks by police and taken back to its owner in a traffic cone.
The animal was spotted by officers on the loose running amok on a road in Hunstanton, Norfolk, on Monday night.
Once rounded up they had to find a way to transport the piglet, so chose to put it in a handy traffic cone, which proved to be a perfect fit.
Norfolk Police said the piglet was safely reunited with its owner.
Trot over here for more news from Norfolk
King's Lynn Police‏ tweeted: "Hunstanton officers rescued a piglet loose in the road earlier this evening. Now reunited with its family."