Owl disrupts Avon and Somerset police's phone system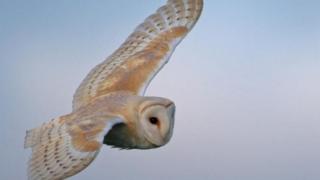 An owl has caused serious problems for a police force's computer and phone systems after it flew into power cables.
Avon and Somerset Police is urging people to call 999 only if they have a genuine emergency and avoid the non-emergency 101 service.
The police headquarters said neighbouring forces were supporting them with their 999 call response.
Engineers are working to rectify the problem.
The accident at 03:30 BST on Monday took out most of the power at Police HQ in Portishead.
Becky Tipper, centre manager for communications at Avon and Somerset Police, said they had staff coming in on their day off to make sure anyone dialling 999 could still get through.
The force usually receives about 3,000 calls on a typical bank holiday Monday, she said, and would be "extra busy".
A back-up service is now running from Taunton and Gloucestershire and Wiltshire Police are helping field calls.
She said: "We are running our 999 service and a reduced 101 service but problems are still ongoing so we would ask people to think before you call as we need to keep those emergency lines free for people who really need our help.
"We are working tirelessly to rectify the problem."
She added: "This is a freak accident, an extremely rare occurrence."
A statement on the force website read: "We currently have computer and phone problems which is affecting our ability to respond to your calls.
"We are responding to 999 emergency calls but would urge that only genuine 999 calls for assistance are made to us.
"Thank you for your patience and support."
The 101 phone number is for local police in England, Wales, Scotland and Northern Ireland, for less urgent matters than a 999 call. 111 is a 24-hour medical advice line, also for non-emergency enquiries.
Emergency calls to 999 were unaffected by the issue.