Novichok: Man exposed to nerve agent is conscious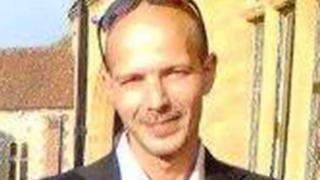 A man who was exposed to the nerve agent Novichok has regained consciousness after a "small but significant improvement", Salisbury District Hospital has said.
Charlie Rowley, who has been in hospital since falling ill in Amesbury on 30 June, is in a critical but stable condition.
But the 45-year-old "is still very unwell", a statement said.
Dawn Sturgess, 44, who was also exposed to the nerve agent, died on Sunday.
Her family have described her as "a gentle soul who was generous to a fault".
Police are investigating a possible link to the case of Russians Sergei and Yulia Skripal – who were poisoned with the same substance in nearby Salisbury.
The UK government has blamed Russia for the incident, but the country's authorities deny any involvement.
Chief Medical Officer Dame Sally Davies said people in the Amesbury and Salisbury area should not "pick up any foreign object which could contain liquid or gel, in the interests of their own safety".
Director of nursing Lorna Wilkinson said: "[Charlie Rowley] is in a critical but stable condition, and is now conscious.
"While this is welcome news, clearly we are not out of the woods yet.
"Charlie is still very unwell and will continue to require specialist, round-the-clock care here at Salisbury District Hospital."
Ms Sturgess lived in Salisbury, and the couple had been in the city before going to Mr Rowley's flat in nearby Amesbury on Friday 29 June.
They both then fell ill on Saturday 30 June, and Ms Sturgess died eight days later. She had two sons, aged 19 and 23, and an 11-year-old daughter.
Police seized a car in Swindon on Monday as part of their ongoing investigation into the poisoning.
The BBC understands the white Audi belonged to a paramedic who had been with Ms Sturgess in an ambulance when she fell ill.
Public Health England also offered advice for people who may have visited one of five areas identified by police.
Those locations are Muggleton Road, Boots pharmacy, and the Baptist church in Amesbury, and John Baker House and Queen Elizabeth Gardens in Salisbury.
Anyone who was there between 22:00 BST on 29 June and 18:30 on 30 June should continue to follow advice, including washing their clothes in a washing machine.