Nicola Payne: £100,000 reward offered to find body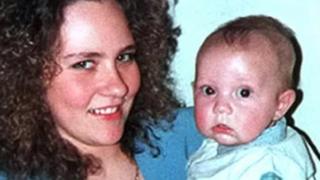 A £100,000 reward is being offered for information leading to the discovery of the body of a young mother who disappeared 26 years ago.
Nicola Payne went missing while walking across wasteland near her parent's house in Coventry in December 1991.
A private forensic search team has been searching a country park since Monday to try to locate her body.
West Midlands Police say the person or organisation that has offered the reward wishes to remain anonymous.
It is believed the 18-year-old mother-of-one was murdered after leaving her young son at her parent's home to walk a short distance to visit her boyfriend.
A team of ex-military specialists has been using sonar and ground radar equipment around Coombe Country Park on the outskirts of Coventry in a bid to locate her body.
They are working with West Midlands Police, which is continuing its investigation into her disappearance.
Ms Payne's parents increased the reward for information last month from £10,000 to £30,000 using their own money.