Newspaper headlines: PM's intensive care move dominates front pages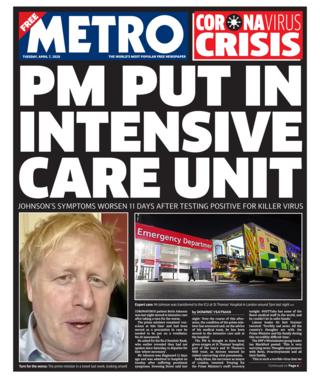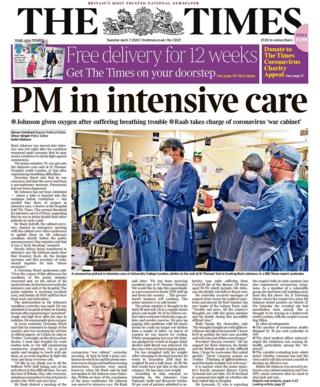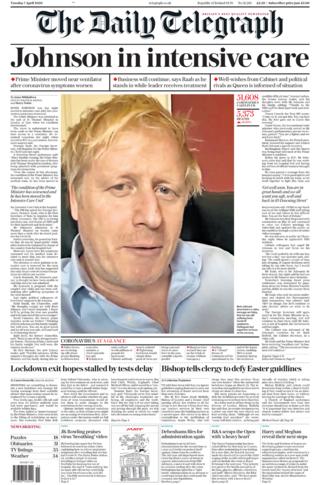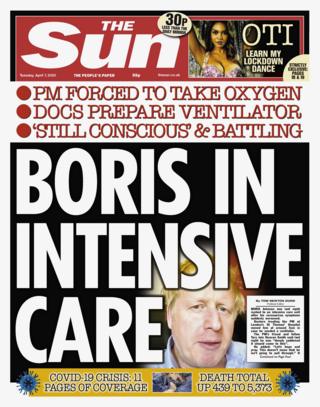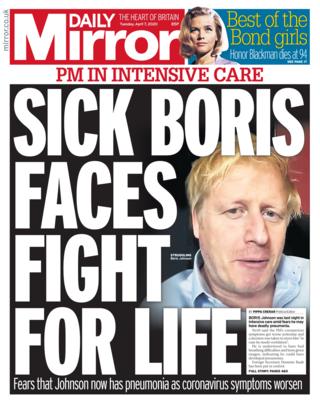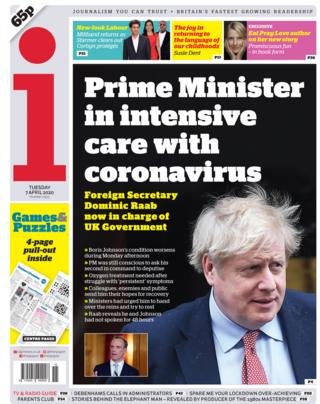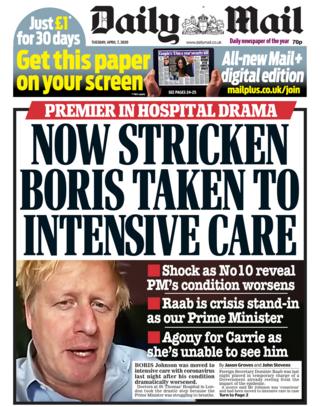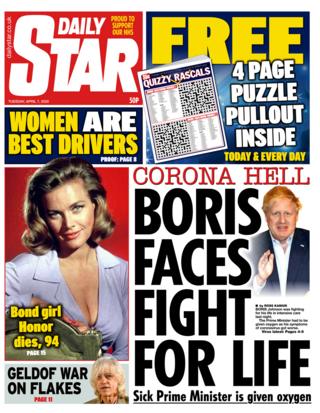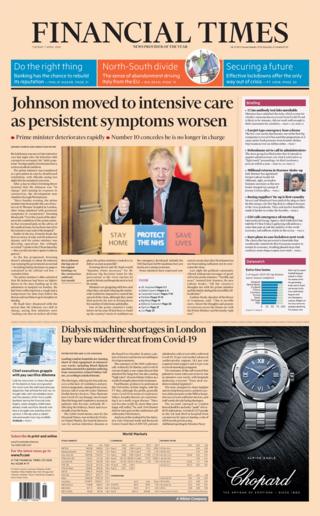 The main story across all of the papers is Boris Johnson's move to intensive care late on Monday evening.
In the words of the Daily Mail, the drastic step was taken because the stricken prime minister was struggling to breathe.
According to the Daily Mirror, there are concerns that he could have pneumonia.
The Times says the deterioration in Mr Johnson's condition was rapid. It quotes sources at St Thomas's Hospital near Westminster who say he needed four litres of oxygen – below the normal threshold in intensive care of 15 litres.
The prime minister, it adds, has not been intubated, where a tube is inserted into the windpipe before ventilation.
'Frustration'
The Times adds Mr Johnson is thought to be fairly fit and well – he is a regular tennis player and, at No 10, he follows online video workouts that mix yoga, Pilates and aerobics.
But the paper says he has had to give up jogging because of problems with his knees and he has struggled with his weight, reaching 16-and-a-half stone in December 2018 which would have put him in the obese category.
The Daily Telegraph says Carrie Symonds, Mr Johnson's partner, who is pregnant, is thought to have been unable to visit him since he was admitted to hospital. The Times says she is thought to be staying in Camberwell, south London with their dog, Dilyn.
The Guardian says a bed was being prepared for Mr Johnson at St Thomas's hospital as early as last Thursday, , suggesting concerns having been mounting for some days. Quoting a source, the paper says he spent Sunday night in an empty wing normally used for elective procedures.
The Guardian has also been told of "frustration" among ministers over the prime minister remaining in charge for so long, rather than resting, even after he had received oxygen treatment.
The i paper agrees that his colleagues had urged him to hand over the reins and try to rest.
The Spectator's Isabel Hardman understands why Mr Johnson wanted to continue to lead the government, even from his bed. This is a national crisis, she writes, where the country needs a recognisable and confident figure leading.
'Uncompromising' karate black belt
HuffPost UK offers a guide to Foreign Secretary Dominic Raab, who is deputising for the PM "where necessary". Describing the 46-year-old karate black belt as an uncompromising figure who has rarely strayed from his dedication to leaving the EU.
The son of a Czech-born Jewish refugee who fled the Nazis, Mr Raab has spent much of the past month trying to get Britons repatriated from far-flung corners of the globe.
Elsewhere, the Financial Times says big decisions loom for the government, as the outbreak reaches its peak and ministers start to grapple with how and when to start relaxing the lockdown. The paper's leader column argues that governments which have rightly decided to close down their economies have only "a very few months" before the costs and social unrest become "unbearable".
Make these lockdowns work, it says, "all the blundering of recent months has to end".
Get news from the BBC in your inbox, each weekday morning
According to the Daily Telegraph, ministers are scrambling to formulate a new exit strategy for the lockdown, following warnings from experts that mass testing cannot be introduced for at least a month.
More than three million antibody tests – which show if someone has already had Covid-19 – were ordered two weeks ago and hailed as "game-changing" by the prime minister. But the government's scientific adviser says they have so far failed.
Matt's cartoon has a park bench with a plaque dedicated to "Mark and Anne who were fined for sitting here during lockdown, April 2020."