Newspaper headlines: Pensioner in 'home struggle' murder arrest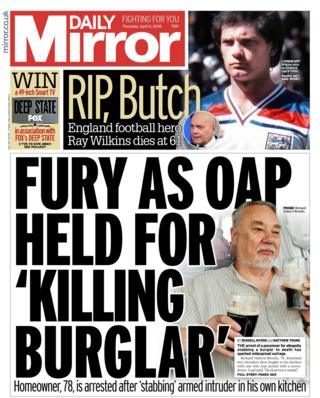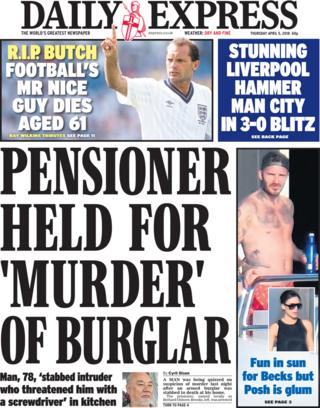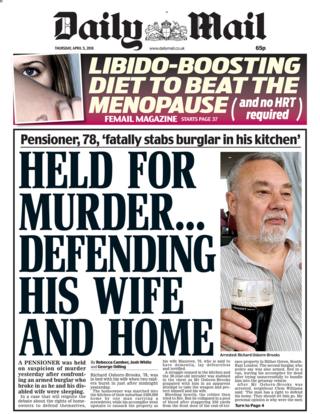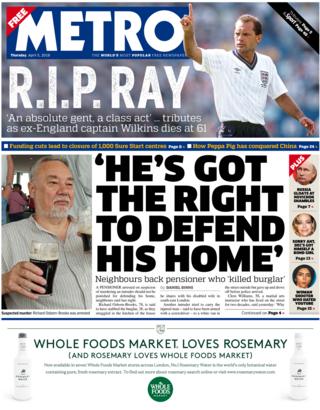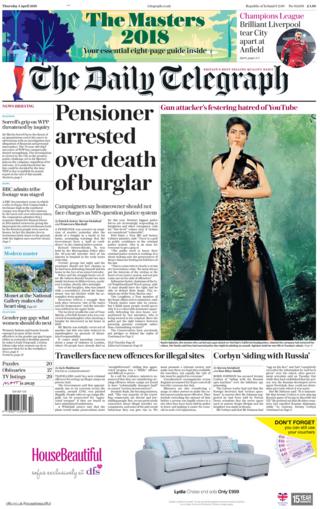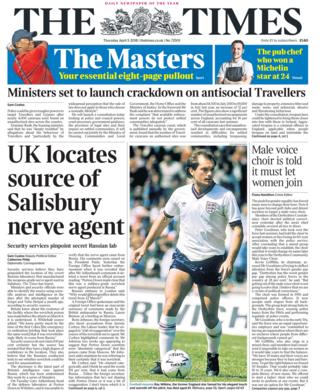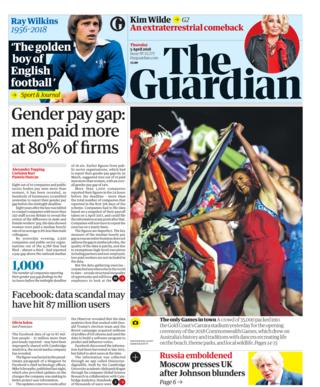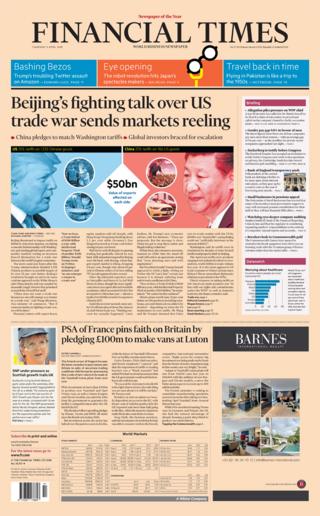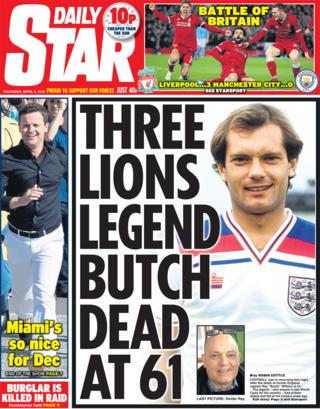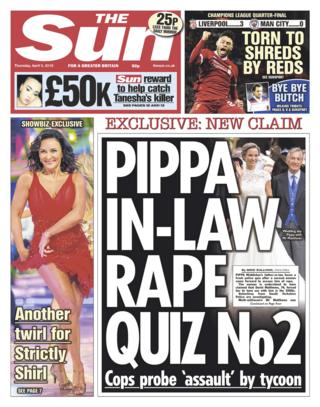 Several papers lead on the arrest of a 78-year-old man on suspicion of murdering a suspected burglar, named locally as Richard Osborn-Brooks.
The Metro says he apparently stabbed the intruder in a struggle in his home in south east London.
The Daily Mail says the case will reignite the debate about the rights of homeowners to defend themselves.
Elsewhere, an explanation of the law as it currently stands is given by the Sun.
It says people can use reasonable force to protect themselves and others in their own homes. The paper adds individuals are only likely to be prosecuted if "very excessive force" has been used.
Get news from the BBC in your inbox, each weekday morning
Writing in the Daily Mirror, the shadow home secretary, Diane Abbott, accuses the government of "being in denial" about the rise in serious crime in London.
She suggests ministers need to address the role social media plays in fuelling violence, and says Labour would recruit more police.
This is a dangerous moment for the prime minister, the i suggests. The Tories consider themselves the party of law and order but "should remember that such reputations can be lost," the paper says.
'Nicest guy in football'
Other front pages take the opportunity to pay tribute to the ex-England captain, Ray Wilkins, who has died at the age of 61.
The Daily Star calls him a "Three Lions Legend".
The Mirror says "Butch", as Wilkins was known, was loved by fans for his "huge ability on the pitch, and "treasured by colleagues" for his kindness and generosity off it.
Wilkins' former club Chelsea described him as one of the nicest guys in football, reports the Sun.
It recalls how, when Wilkins became a manager, one of his trainees wanted to phone his mum after he made his debut only to find Wilkins had paid for her to travel to the ground as a surprise.
Free school meals gap
Fat-related NHS admissions have doubled in four years, according to the Sun.
It says "tubby women" are fuelling the rise accounting for two thirds of the 617,000 admissions last year.
The i, meanwhile, focuses on those potentially going hungry, as it suggests that up to 100,000 children from low-income families could lose out on free school meals.
The Institute for Fiscal studies, which provided the figure, blames the government's decision not to take inflation into account when working out who is entitled to the meals in coming years.
And finally, the Daily Express reports the England team at the Commonwealth Games was confused with the Gambia in the competition's souvenir guide.
In its editorial, the Times says England should be flattered by the mix-up.
Granted, the Gambia has only ever won one Commonwealth medal, but it has done so while being the 15th poorest country in the world.
In addition, it says, the Gambia boasts "cool music, cool people and a cool flag. What's not to like?"