Nazanin Zaghari-Ratcliffe: Johnson to urge Iran to free prisoner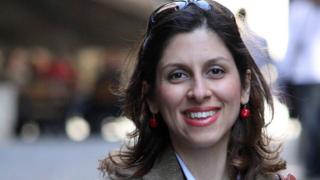 Boris Johnson will urge Iran to free British-Iranian woman Nazanin Zaghari-Ratcliffe from jail when he visits Tehran.
The foreign secretary is expected to travel to Iran in the next few days.
Ms Zaghari-Ratcliffe has been in prison since April 2016 after being accused of spying. She denies the claim.
Supporters of the 38-year-old from London say that she recently had a health assessment to see if she was fit enough to remain in prison.
Mr Johnson's Tehran trip will see him raising the cases of other dual nationals being held in Iran.
He will also discuss British concerns over Iranian involvement in conflicts in the Middle East, especially in Syria and Yemen.
In November Mr Johnson apologised in the Commons after telling a committee of MPs that Mrs Zaghari-Ratcliffe had been teaching journalism in Iran.
He retracted "any suggestion she was there in a professional capacity".
Critics complained that the foreign secretary's initial comments could lead to her five-year jail term being increased.
Mr Johnson met her husband, Richard Ratcliffe, in November to discuss calls for her to be provided with diplomatic protection.
The mother had been visiting Iran with her daughter Gabriella when she was arrested last year.
The child has been living with her maternal grandparents in Iran for the last 20 months.
Mr Ratcliffe has not seen his daughter during his wife's incarceration.
There were concerns about Mrs Zaghari-Ratcliffe's health after lumps in her breasts were discovered but those were found to be non-cancerous.
In November Mr Ratcliffe said: "She talks about being on the verge of a nervous breakdown. I absolutely believe that's true.
"I think it's important I don't exaggerate anything in the media and I'm not melodramatic, but she is in a difficult place."