Murdoch's Fox increases Sky bid to £24.5bn in takeover battle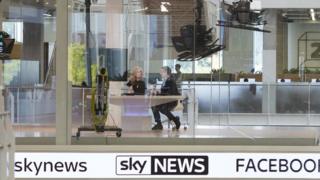 Rupert Murdoch's 21st Century Fox has increased its offer for UK broadcaster Sky to £24.5bn, topping a previous offer from rival bidder Comcast.
US media giant Comcast made a £22bn offer for Sky in February, trumping a previous offer from Fox, which valued Sky at £18.5bn.
Fox is expecting to get regulatory approval from Britain this week for the deal.
Fox said Sky's independent committee had agreed the deal.
Rupert Murdoch's Fox has been trying to get approval from UK regulators since 2016 to buy the 61% of Sky it does not own already.
The bid was held up by fears it could give Mr Murdoch too much power over UK media.
Fox has been trying to address those concerns through concessions, including selling Sky News to Disney once the deal is complete.
Separately, Disney wants to buy Fox's entertainment assets, including its stake in Sky.
Comcast also wants to buy Fox. The US media conglomerate is locked in a battle with Disney over Fox's entertainment assets, which include movie studios, cable channels, National Geographic and a 30% stake in video website Hulu, as well as Indian network Star.