Murder trial pharmacist 'killed wife for £2m payout'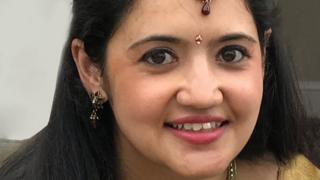 A pharmacist killed his wife in order to cash in £2m of life insurance and start a new life in Australia with his boyfriend, a jury has heard.
Mitesh Patel, 37, owned and ran the business with Jessica, 34, who was strangled at their home in Middlesbrough in May.
He denies her murder.
Jurors at Teesside Crown Court previously heard Mr Patel cheated on his wife with men he met through dating app Grindr.
Nicholas Campbell QC, prosecuting, said the defendant staged a burglary at their home on The Avenue in Linthorpe and strangled Mrs Patel with the intention that intruders would be blamed.
"The prosecution case is that this [the burglary claim] is a lie," he said.
Mr Patel planned the murder "for some time" and researched the length of time it would take to die from strangulation, Mr Campbell said.
'Soul mate'
No-one else was in the couple's home at the time of the murder, Mr Campbell said.
Mr Patel had previously left the house to create a false alibi, Mr Campbell said, and tried to stage-manage the murder scene.
He said there was "ample" motive for the killing, as there were various life insurance policies in Mrs Patel's name worth £2m.
"He was planning to use the money to start a new life in Australia and that life would be shared with the person who he really loved, one who he regarded as his soul mate – another man," he said.
The trial continues.