Mum warned Maghaberry prison hours before son's death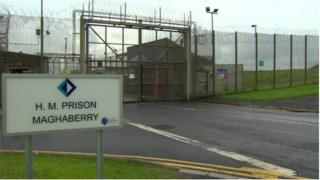 The mother of a man who killed himself in Northern Ireland's high-security prison was told he was fine after warning staff hours earlier that he had threatened to take his own life.
David O'Driscoll, 30, hanged himself in his cell just over seven hours after arriving at Maghaberry prison in August 2016.
A report into his death was published on Wednesday.
The head of Northern Ireland's Prison Service has apologised to his family.
Mr O'Driscoll had a long history of mental health problems and had been put on suicide watch on three previous occasions when admitted to the jail.
'Distressing'
A report by the Prisoner Ombudsman said Mr O'Driscoll's mother contacted the prison shortly before his death and told staff he had telephoned his family and was "threatening to kill himself".
A short time later, a member of staff called her back and reassured her that her son was fine.
She was told that he would be checked every two hours, that his mood would be assessed continually and that staff arriving to work the night shift would be informed that concerns had been raised about his wellbeing.
The next call she received was to say he was dead.
The investigation report into his death said that none of the preventative measures outlined in the call to Mrs O'Driscoll were put in place.
It also revealed that no-one spoke to Mr O'Driscoll about the call to his family and that the reassurance given to his mother was based on an earlier conversation he had with a prison officer.
Mrs O'Driscoll was also told her son had seen a nurse and that medication he needed would be sorted out.
But, the report said the medication had not been administered by the time of his death.
---
Maghaberry: A prison in the spotlight
Maghaberry Prison, Northern Ireland's only high-security jail, opened in 1986 and has never been far from the headlines.
It was the site of dirty protests by dissident republican prisoners over full-body strip searches, as well as a riot by loyalist prisoners in 2004.
In recent years, the prison has been criticised for serious incidents in which prisoners have died or committed serious self-harm.
In 2015, the prison was labelled as the most dangerous prison ever inspected by England and Wales' chief prisons inspector.
The following year, a report revealed staff watched but failed to intervene when a mentally-ill prisoner, Sean Lynch, blinded himself.
Follow-up inspections in the last two years have indicated some "fragile" progress but concern remains about vulnerable prisoners.
---
"It is particularly distressing in this case that after being reassured by the prison about her son's wellbeing, Mrs O'Driscoll was later told that he had died," said Prisoner Ombudsman Brendan McGuigan.
"This case highlights important lessons about how information provided from relatives of those in prison should be addressed."
"I wish to impress on prison staff the importance of staff handovers and record keeping, which, in this case, fell short of the standards required."
Disciplinary questions
The report also revealed that the judge who remanded Mr O'Driscoll in custody in Maghaberry on the day he died had asked that he should see a doctor "as he appeared vulnerable".
A doctor who examined him at Daisy Hill Hospital in Newry two days before he was sent to prison also told police "he should be placed on suicide watch".
Mr O'Driscoll was assessed by a prison officer and a nurse shortly after he arrived at the jail, but the report said "neither found anything of concern in his manner".
Speaking on the BBC's Good Morning Ulster programme, the prisoner ombudsman commended the nurse, saying she had gone "the extra mile" by contacting an out-of-hours GP to access a repeat prescription for the prisoner.
However, Mr McGuigan added that by the time prison and health care staff entered his cell to administer the drugs, he was already dead.
When asked if the prison officer who had given reassurances to Mr O'Driscoll's mother should be disciplined, the ombudsman replied: "I do believe that there should be consequences for not carrying out these fundamental roles within the prison environment, especially with vulnerable prisoners."
'Number of failings'
The head of the Northern Ireland Prison Service, Ronnie Armour, has apologised to Mr O'Driscoll's family.
"I very much appreciate how difficult the findings of this report will be for them and, on behalf of the Prison Service, I want to apologise for the fact that David died in our care," he said in a statement.
"It is important to recognise the difficult and challenging circumstances that prison staff encounter every day.
"In the last year alone, prison officers at Maghaberry Prison have saved 12 lives.
"However, today's report clearly highlights the events leading up to David's death and, in doing so, rightly focuses on a number of failings in our procedures.
"I want to assure the family that we have, and will continue to learn from this tragedy."
'Recurring finding'
Mr Armour was also asked by Good Morning Ulster if the prison officer who spoke to Mrs O'Driscoll had been disciplined.
He replied: "It wouldn't be appropriate for me to comment on an individual or individual officers."
The ombudsman made 11 recommendations for improvement, including guidance being issued to staff on how to respond to calls from concerned relatives.
But, he said, inadequate handover notes to staff arriving for the night shift "regrettably is a recurring finding" in reports and noted that previous recommendations on the matter have not been implemented.