Mother appeals for return of stillborn baby charm bracelet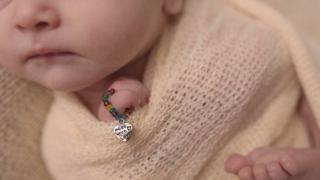 A mother has appealed for the return of a tiny charm bracelet, the "only thing" her stillborn son had held.
Ashley Brown carried baby Jacob for 19 weeks before his death on 10 January 2016. He weighed just 110g (3.8oz).
The charm, with the words "Made with Love", was lost along with her husband Ryan's wallet in Burton upon Trent in Staffordshire at the weekend.
Mrs Brown, from Amesbury in Wiltshire, said the charm was "one of the only ways of keeping Jacob real".
The charm, which is slightly larger than a 5p, was tucked inside a brown leather Ted Baker wallet when it went missing.
Mr Brown believes he last had it at the Travelodge Central in Burton on Saturday night but the couple have been told by hotel staff they could not find it.
"It was the only thing my little boy had held, which I had a picture of him doing so," said Mrs Brown.
"It just shows to us how tiny he really was."
The couple said they were unable to have their son's ashes as "his bones were still muscle tissue".
'Keeping him real'
They also said there was no birth or death certificate for Jacob, as he had been "born before the 23-week stage".
"It's almost like he never existed from a paperwork point of view so the charm was one of the only ways of keeping him real," she said.
"It feels a little like I've lost a piece of me. I'm not bothered about getting the wallet back I just want my son's charm back."
The couple went on to have a baby girl, Aria, who was also photographed holding the charm.
Anyone who finds the wallet or charm bracelet is asked to hand them into the police.