Missing mum Samantha Baldwin and her sons found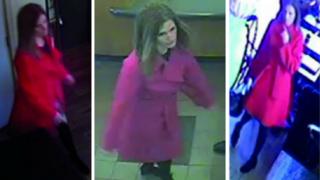 A woman and her two sons who went missing from Nottinghamshire have been found, police said.
Samantha Baldwin, 40, and her sons are now safe, a Nottinghamshire Police spokesman said.
The mother went missing on 27 March with her sons. Police said further information would be released later.
CCTV images from Nottingham on the day she went missing released by police showed her alone at two locations in the city centre.
Officers made a series of appeals to her to contact them during the 10 days she and the boys were missing.
Updates on this story and more from the East Midlands
A police team of 100 officers were involved in the case and a Europe-wide alert was issued to cover ports, airports and railway stations.
In a statement, police said: "They are now with officers and are safe.
"Thank you for your support in this matter."